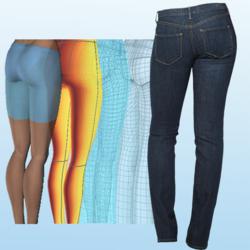 free downloadable MyBodyScanner® software transforms your camera into a home 3D body-scanner.
New York, New York (PRWEB) April 30, 2013
After six years in the making, U.S. startup LiquidFabric.com now offers custom jeans molded to fit each individual perfectly.
The company developed a new ground-breaking technology to accurately create a client's 3D digital body based on 2 full-body photos. The free downloadable MyBodyScanner® software transforms your camera into a home 3D body-scanner.
The perfect fit of LiquidFabric® jeans is achieved via a patented 3D methodology. Utilizing 3D design software, the jean patterns are molded over the client's digital body and then unwrapped, flattened into a 2D image, so it can be plotted out for fabric cutting.
"Each pair is individually designed using 3D software. This new approach enabled us to create the most desirable and flattering look; it also enabled us to build the perfect fit that, until now, was impossible to produce without the use of 3D technology," founder Kurt Chang said.
The U.S. startup says this new product brings to reality what many others have long wished to do using 3D body scanning stations, but were held back by expensive hardware that is costly to operate and takes up valuable space in stores.
The technology behind LiquidFabric® overcomes challenges associated with traditional hand-taken measurements, which are more prone to error and don't precisely contour to the complex shape of the human body, thus resulting in an inferior and disappointing pair of jeans.
Chang expressed satisfaction that now, with LiquidFabric®, there is a solution for millions of women who have trouble finding well-fitted jeans; according to a ShopSmart poll published in June 2010, "more than 56% of women say they have trouble finding well-fitting and flattering jeans, with 8% seeking professional guidance to locate a pair."
Chang stated, "LiquidFabric® is the result of our passion for bespoke clothing and an obsession with 3D technology. The past few years have been the most thrilling years of my life. This entire project has been made possible by relentless determination and inspiration from those who dared to live their dreams."
For more information about LiquidFabric® jeans, please contact:
Kurt Chang, Founder
917-310-0909
Kurtchang(at)liquidfabric(dot)com
About LiquidFabric.com
LiquidFabric.com, located on the Upper East Side of New York City, is comprised of American fashion industry professionals and led by founder Kurt Chang. Chang is a graduate of the Fashion Institute of Technology in New York City, with degrees in apparel and textile manufacturing management. He began his career in the garment industry 20 years ago, working as an industrial engineer. Chang started advocating 3D technology for apparel manufacturing in the late 1990s. He holds a US patent on 3D Fit & 3D Pattern Morphing. LiquidFabric® jeans are LiquidFabric.com's first product, created through the use of digital imaging and 3D design software.