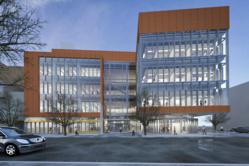 "We have evaluated our academic offerings as part of the Commission on Academic Renewal; and we are working to streamline, modify and augment them in response to rapid changes in higher education." - Sidney A. Ribeau, Howard University President
Washington, DC (PRWEB) April 04, 2013
Howard University and Turner Construction Company, along with the project team of Brailsford & Dunlavey (Owner's Representative/Program Manager), HDR Architecture (Architect of Record), and Lance Bailey & Associates (Consulting Architect), will break ground on a new Interdisciplinary Research Building ("IRB") on April 18. The IRB, to be located at 2201 Georgia Ave., NW, Washington, is a cornerstone of the University's academic renewal initiative, and its prominent gateway location on the Georgia Avenue Corridor is a public expression of Howard's commitment to 21st century research.
The new 81,000 square-foot mixed-use academic building will support and promote interdisciplinary research and educational collaboration. The IRB is designed as an energy-efficient (LEED) facility which will incorporate cutting-edge technology and the latest educational, environmental and research standards. It will include wet and dry laboratories, instructional space, research support space, ground floor retail, and centralized offices for faculty, students and academic staff.
"This project is a monumental milestone for the University," said Howard University President Sidney A. Ribeau. "We have evaluated our academic offerings as part of the Commission on Academic Renewal; and we are working to streamline, modify and augment them in response to rapid changes in higher education. The Interdisciplinary Research Building will enrich the research and instructional environment."
The Interdisciplinary Research Building is slated to open in the Fall of 2014. Last month, Howard also announced the development of two new on-campus residential facilities in the Fourth Street Corridor. The new living-learning facilities are designed to accommodate 1,360 students and support the University's "Students First" initiative.
Due to the strict requirements associated with clean-laboratory research, the Interdisciplinary Research Building will be designed and constructed to mitigate potential vibration, acoustical, magnetic, and radio-frequency interferences.
"Through the expansion of our interdisciplinary collaborations, we will maximize our strengths as a University," said Provost and Chief Academic Officer Wayne A.I. Frederick, M.D., MBA. "The University becomes much larger than the sum of its parts, and strategically positioned to serve the local, national and global community while fulfilling its mission as a research institution."
About Howard
Founded in 1867, Howard University is a private, research university that is comprised of 13 schools and colleges. Students pursue studies in more than 120 areas leading to undergraduate, graduate and professional degrees. Since 1998, the University has produced two Rhodes Scholars, two Truman Scholars, a Marshall Scholar, 30 Fulbright Scholars and 11 Pickering Fellows. Howard also produces more on campus African-American Ph.D. recipients than any other university in the United States. For more information on Howard University, call 202-238-2330, or visit the University's Web site at http://www.howard.edu.
About Turner Construction Company
Turner is a North America-based, international construction services company. Founded in 1902 in New York City, Turner has 5,200 employees worldwide and works on 1200 projects each year, for an annual construction volume of $8 billion. As the largest general builder in the United States, Turner ranks first or second in the major market segments of the building construction field, including healthcare, education, sports, commercial, telecommunications, and green building. The firm is a subsidiary of HOCHTIEF, a publicly traded company, and one of the world's leading international construction service providers.
For more information please visit http://www.turnerconstruction.com.
About HOCHTIEF
HOCHTIEF is one of the leading international providers of construction-related services. With more than 80,000 employees and a sales volume of EUR 23.28 billion in FY 2011, the company is represented in all the world's major markets. With its core competencies in development, building and operation, the Group delivers services for the entire life cycle of infrastructure projects, real estate and facilities. The focus of the related business activities is on four strategic areas: energy infrastructure, transportation infrastructure, major cities, and resources. With its subsidiary Leighton (HOCHTIEF share around 54 percent), the Group is market leader in Australia. In the USA, the biggest construction market in the world, HOCHTIEF is the No. 1 general builder via its subsidiary Turner and, with Group Company Flatiron, ranks among the most important players in the field of transportation infrastructure construction. Because of its engagement for sustainability, HOCHTIEF has been listed in the Dow Jones Sustainability Indexes since 2006. Further information is available at http://www.hochtief.com/press.
About Brailsford & Dunlavey
Brailsford & Dunlavey (B&D) was founded in 1993 as a program management firm to provide planning and implementation services to communities, governmental agencies, higher education institutions, and K-12 schools across the nation. Driven by purpose, they have completed more than 500 assignments worth over $10 billion dollars in completed construction value. Their analysis methodologies and management systems are among the most highly refined in the industry. The firm's staff of over 100 professionals hails from diversified backgrounds in economics, architecture, construction, urban planning, finance, marketing, and management.
Brailsford & Dunlavey is headquartered in the nation's capital—with regional offices in Atlanta, Boston, Chicago, Charlotte, Detroit, Columbus, Irvine and features a client base in 49 of 50 states. The firm is a wholly independent, minority-owned business enterprise and a registered CBE. For more information please visit http://www.programmanagers.com
About HDR Architecture
HDR is a global employee-owned firm providing architecture, engineering, consulting, construction and related services through our various operating companies. Founded in 1917, HDR employs more than 8,000 professionals in over 185 locations, and has completed projects in 60 countries. Building Design Magazine's "World Architecture Survey" recently ranked HDR as the number one healthcare architect as well as the number one science architect.
For more information please visit http://www.hdrinc.com