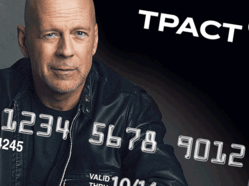 In the UK the association of a finance brand with a man better known as a one man police force (without the paperwork) would be unheard of, but the results speak for themselves.
United Kingdom (PRWEB UK) 4 April 2013
Although celebs have been used as brand ambassadors a long time they have not traditionally been widely used in UK finance sector, but could campaign analysis from Trust Bank, of Russia, change that, and should UK finance brands look again at celebrity endorsement?
In 2010, the independent Russian retail bank, Trust Bank, decided to enroll Hollywood hardman Bruce Willis to, as Dmitry Chukseyev (Vice President of Communications for the bank) puts it, help "...present our financial products as 'financial heroes'...". In the UK the association of a finance brand with a man better known as a one man police force (without the paperwork) would be unheard of, but the results certainly speak for themselves.
According to data released this week by the bank, the brand awareness of Trust bank has increased dramatically, from 20th position, in 2010, to 3rd in March 2013. They experienced a 30% growth in credit card sales which boosted them to the 4th position in credit portfolio growth*. Consequently, the bank's client portfolio has increased dramatically – with 40,000 new customers joining Trust Bank in the last eight weeks – after the new Die Hard movie was released in February.
Moreover, the largest retail bank in Russia, Sovietsky Bank, also adopted celebrity marketing recently and hired newly Russian resident Gerard Depardieu as their frontman.
Given the astonishing results that Trust bank experienced, should an increase in celebrity marketing in the UK finance sector be expected too? Will the UK public soon sport glossy pictures of Mr Willis on their flexible friends?
Although not unheard of, celebrity endorsement is not widely used in the UK finance sector. Santander uses it to some degree with sports 'personalities' to promote it's UK current accounts and cashback credit cards, but they are almost alone in wedding themselves to these very public personas. Perhaps for good reason as grumpy Mr McIlroy recently demonstrated potential pitfalls associated with these endorsements (Not to mention Lance Armstrong!)
It's perhaps for these reasons that UK marketeers have developed "pseudo celebrities" to endorse their products. Whether it's a meerkat (comparethemarket), Mr. B the teddy bear (Barclaycard) or an annoying opera singer (Gocompare), pseudo celebs, whose public behaviour and past indiscretions can be carefully orchestrated, are now very popular with UK marketeers – and with good reason. Alexander the Meerkat, comparethemarket's mascot, now boasts a Facebook page with 800,000 likes, a Twitter account with 60,000 followers - demonstrating celebs don't need to be 'real' to endorse a product.
Indeed, it seems that dropping the baggage that comes with 'real' celebrities has freed UK advertisers, so it's unlikely a cheeky picture of Bruce will appear in the nations wallets any time soon (unless, of course, they happen to want one). Which then just begs the question, will the Russians import the UK's pseudo celebs and, if they do, would they really recognise Alexander as a fellow countryman?
*Frank Research Group in Moscow
_______
compareandsave.com is one of the UK's leading personal finance comparison websites. Based in Colchester, Essex, compareandsave.com has been helping UK consumers get a better deal on credit cards, saving, loans and more for over five years.