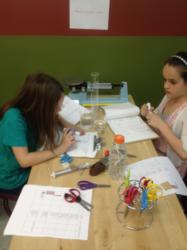 "If children have to endure State Tests, let them at least LEARN the science they need to know so the content actually becomes more important than test-taking techniques. " Dr. Leonisa Ardizzone
New York, New York (PRWEB) April 08, 2013
Storefront Science, Manhattan's only dedicated science play space, introduces children to the wonder, challenge and excitement of science through clubs, camps and open exploration time. This spring, as schools and students prepare for New York State Tests, Storefront Science breaks the test prep mold by offering the Fourth Grade Science Test "Learn" – the antidote to the standard 'drill and memorize' test preparation.
Utilizing their critically acclaimed hands-on play-based methodology, Storefront Science invites children working in teams to engage in a series of challenge stations based on the science content and process in the New York State Science test. Group discussion follows to ensure conceptual understanding. Themed stations include measurement, ecosystems, and laws of motion to name a few.
The workshops will be offered April 12th and May 3rd from 3:30 pm to 6:00 pm. Cost per session is $60 and will be led by Storefront Science founder Dr. Leonisa Ardizzone.
Dr. Ardizzone developed the idea last year when she realized her own child reported that in school she was "being taught the test" as the science curriculum. Wanting her to do well AND actually learn the science on the test, she created the 4th grade science event. Grateful parent Rachel sent a note stating "Just wanted to let you know that my daughter got a 4 in Science, specifically in scientific method. Thank you!"
"If children have to endure State Tests, let them at least LEARN the science they need to know so the content actually becomes more important than test-taking techniques. " Dr. Leonisa Ardizzone
Dr. A, as the kids call her, a science educator with 20+ years of experience in New York classrooms, opened Storefront Science in January 2012 and it has quickly grown into an Upper West Side phenomenon that boasts sold-out enrollments and has been featured in The New York Times, Time Out New York Kids, The New York Post, WNYC, Big Apple Parent, Mommy Poppins, CBS News, Thirteen.org as well as in "Best of New York" in New York Magazine.
Storefront Science is conveniently located off the A and 1 trains, and the M4, M5 and M98 buses.
For more information on Storefront Science's Summer Schedule, please visit the website at http://www.storefrontscience.com or call 646-833-7195 for additional information.