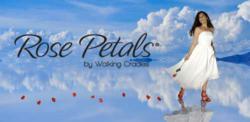 "We will continue to guarantee the same high quality and great fit our customers trust."
St. Louis, MO (PRWEB) April 04, 2013
St. Louis-based Mark Lemp Footwear, makers of Walking Cradles®, Elites by Walking Cradles®, and Walking Cradles® Classics, has announced the debut of a fashionable new dress brand: Rose Petals by Walking Cradles®.
Rose Petals ® has been in development for several seasons, based on consumer feedback requesting the addition of dressier styles to the Walking Cradles® brand family. According to Mark Lemp, Jr., President of Mark Lemp Footwear, "Rose Petals® will be geared toward contemporary styling with a comfortable fit to appeal to the modern woman." Made in both Brazil and China, Rose Petals® is produced in the full range of sizes and widths that has made Mark Lemp Footwear an established presence in the women's footwear market.
Vice President of Product Development Dennis Bergman has said that he is excited about the opportunity to offer comfortable, dressy footwear to the women's market, stating, "We will continue to guarantee the same high quality and great fit our customers trust."
A full line of products under the Rose Petals® label is now available for Spring 2013 at WalkingCradles.com and at both on and offline retailers throughout the US.