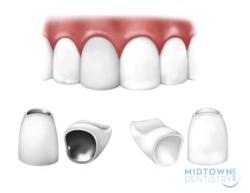 "Zirconia crowns are Better looking and stronger crowns" -Says Dr. Penchas, a MIDTOWN DENTISTRY dentist and expert.
Houston Texas (PRWEB) April 29, 2013
Everyone over 40 seems to have a dental crown in their mouth. This is because teeth become brittle and break with clenching and with use.
Dental crowns, also known as "caps" are a fake tooth that covers and protects the tooth. They were always made out of gold or a metal with a white ceramic covering.
The looks and the strength were always difficult for the dentist to handle.
Cosmetics were a problem because the dark part of the metal shined through the crown and made the teeth darker.
Strength because the materials were not strong enough - and tended to crack or break off.
Enter the all-zirconia crown. Similar to the material in cubic zirconia or "fake diamonds", this zirconia is tooth colored and as strong as metal. Zirconium crowns have a tooth color with greater strength than any material dentists ever had - allowing for better looks and less broken crowns.
MIDTOWN DENTISTRY - A HOUSTON, TEXAS based boutique dental group is now using the 3M scanner to scan the mouth and send the information directly to the dental lab computer, where the zirconia crown is made.