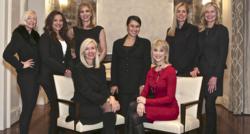 "To sell properties in the luxury market, you have to give the property high visibility," says Haverty, "You need a strong and driven marketing team. We are that team."
Atlanta, Georgia (PRWEB) April 04, 2013
Nan Haverty has just announced the formation of The Haverty Group, a full service, high end sales and marketing group of real estate professionals in Atlanta, GA. The six member real estate sales and marketing group is part of Beacham and Company Realtors, one of Atlanta's top real estate firms, specializing in luxury properties.
The Haverty Group offers upscale clients including executives, celebrities, and professional athletes, a full range of results oriented marketing tools that include, high quality professional photography, thoughtful staging and design, and state-of-the-art website and internet marketing.
"Clients receive full service marketing that includes online advertising, syndicated listings in elaborate and high end publications, such as "Atlanta Homes and Lifestyles Magazine," says Haverty. "We also offer clients counsel and recommendations on professional staging to encourage offers from prospective buyers."
The Haverty Group also features real estate professionals who are experts at short sales and foreclosures. "These sales can be complex," says Haverty, "but we have the experience and expertise to make these sales move and close for the client."
Nan has a "In Town, Country and Coastal," lifestyle approach. Whether the client is buying or selling a starter home, a lot to build a custom house, large estate, Intown condo or townhome, Nan and The Haverty Group have the resources to service all particular interests and needs.
Haverty is also a licensed agent in Florida and provides additional knowledge and expertise to her clients who are looking for vacation homes or investment properties.
The Haverty Group knows that it is not uncommon for the perfect buyer of a home to be in another state or country; yet it is uncommon for a real estate professional to have the resources to find them.
"To sell properties in the luxury market, you have to give the property high visibility," says Haverty, "You need a strong and driven marketing team. We are that team."
Nan Haverty has also been in the media spotlight as an expert in selling upscale luxury homes. She has been featured in several magazines such as "Atlanta Home & Lifestyles," and conducted numerous on camera interviews with local Atlanta TV stations, including The Chat room and 11 Alive News.
Nan Haverty, was the top sales producer at Beacham & Company, with sales of over $22 million dollars in 2011. In 2012, Haverty was in the top 2% company wide. Haverty is also a co-founder of the Serenbe community nestled in the woods of Chattahoochee Hill Country, recently incorporated just 45 minutes south of Atlanta, and is now recognized as the greenest city in the United States. One of Haverty's most recent sales in Serenbe was the 2012 HGTV Green Home that was featured on the network's popular TV show. One of Haverty's past clients, who now lives in Manhattan, watched the show and immediately called Nan to place the offer on the home before it even hit the market.
Haverty gives back a portion of every commission earned to the non-profit inner city youth development program for honor roll students called Create Your Dreams (http://www.createyourdreams.org) that she founded in 1994.
For more information, Nan Haverty and The Haverty Group can be reached at 404-328-8313 or at http://www.thehavertygroup.com