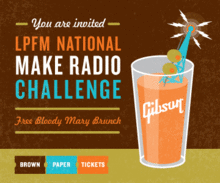 87 percent of all radio stations are owned by whites, 6 percent are owned by women and 7 percent by people of color, which influences the programming heard on the public airwaves.
Denver, Colorado (PRWEB) April 03, 2013
Denver nonprofits are eligible to apply for a once-in-a-lifetime free low-power FM (LPFM) radio station license through the Federal Communications Commission (FCC) in October, which could result in up to 7 new Denver radio stations being licensed by the end of 2013. Brown Paper Tickets has created a national Make Radio Challenge, and is offering assistance to Denver nonprofits that want to apply for a free low-power FM radio license, and has found $3.8 million in public funding available to help them on the path to adding noncommercial voices to the public airwaves. Assistance in applying for LPFM, and the Denver LPFM Resource Guide can be found at http://community.brownpapertickets.com/Doers/radio.html.
"Now is the time for nonprofits to prepare their application to own a part of the public airwaves," said Sabrina Roach, a Doer specializing in public interest media for Brown Paper Tickets. Roach will be in Denver sharing information on the LPFM opportunity, and how to fundraise and engage communities needed to build a radio station at the Journalism That Matters conference April 3-4, and through a panel at the National Conference for Media Reform, April 5-7.
"Most traditional media have not included the FCC's LPFM application window in news coverage, and therefore, the majority of groups eligible to apply are not aware that this opportunity exists. This is a problem, because the application will take about three months to complete," Roach said. "My goal is to make nonprofits aware of the opportunity, to inspire them to think about how they could broadcast online and distribute content via multiple platforms, to see this as a jobs creator that can fuel their local creative economy, to guide them to resources that make building and operating a radio station realistic, and to help them to organize and successfully complete the application in time."
"This will be the first time that LPFM licenses will be awarded in large urban markets, and likely the last time that they will be awarded at all, making the Oct. 15 application window an important opportunity for nonprofit community groups to reach larger audiences. Some potential uses for LPFM would be for recruiting volunteer and financial support, workforce education, public health campaigns, organizing, telling stories that don't make it to commercial media, publicizing meetings and events, serving as resource for youth development, hyper-local community news, exposure for local artists and musicians, and much more.
"Our hope is that community groups take up the challenge and use the public airwaves for public good," Roach said. "An additional benefit would be in helping to correct the lack of diversity in media ownership, in that 87 percent of all radio stations are owned by whites, 6 percent are owned by women and 7 percent by people of color, which influences the programming heard on the public airwaves."
Brown Paper Tickets is an event registration and ticketing company with a social mission of taking less money for its services, making donations to nonprofits with every ticket purchased, and building communities as a part of building business. "Brown Paper Tickets commits 5 percent of all profits to building healthy communities, and we believe that LPFM is an important and powerful tool in that mission," Roach said. "We have been granted an amazing opportunity to use the public airwaves to build our communities; now it is up to communities and nonprofits to seize that opportunity."
About Brown Paper Tickets: Brown Paper Tickets (http://www.BrownPaperTickets.com), the Not-Just-For-Profit ticketing company, revolutionized the industry by putting free, professional tools for ticketing any-sized gathering on the Internet, and continues to champion the rights of ticket-buyers with the lowest fee for the most service in the industry. The company donates 5 percent of the profit from each ticket sale to build communities and nonprofits, pays its employees to work 40 hours each year for the cause of their choosing, and employs a team of "Doers," experts in industries such as music, new media, makers, roller derby and more, to fix, improve and revolutionize the communities where we live, work and play.
###
Editor's Note: If you'd like to interview Sabrina Roach while she is in Denver, April 3-8, please contact Barb Morgen at barb(at)brownpapertickets(dot)com, or call 206.898.8411.