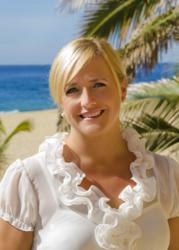 This designation is a testament to the commitment of our entire company to providing extraordinary service for our villa guests in Cabo
Cabo San Lucas, Mexico (PRWEB) April 04, 2013
Each year, Wendy Perrin, the Director of Consumer News and Digital Community for the prestigious Condé Nast Traveler, releases her much-anticipated list of recommendations for the world's top vacation villa rental specialists. This carefully handpicked roster represents those travel professionals providing an exceptionally high quality of vacation properties and outstanding customer service. For 8 years in a row, Julie Byrd, the Vice President of Sales for CaboVillas.com (Earth, Sea & Sky Vacations) has made this distinguished list of villa specialists. As Perrin explains in Traveler, staying on the list "requires proving user-friendliness, conscientiousness, and honesty again and again."
Byrd says, "I am thrilled and honored to have been selected again by Condé Nast Traveler. This designation is a testament to the commitment of our entire company to providing extraordinary service for our villa guests in Cabo."
Specializing in villa rentals in Los Cabos, Mexico, CaboVillas.com offers over 25 years of experience in providing customized vacation packages in the region. Byrd explains that, "the heart of our business is in creating very personalized experiences for each of our clients, tailoring each vacation to their personal preferences and budget." The company also provides activities, transportation and a host of luxury amenities, from luxury yacht charters to in-villa gourmet dining.
Byrd's team offers vacation villas in Cabo San Lucas, throughout the Tourist Corridor region of Los Cabos, San José del Cabo, the East Cape and the La Paz area of Baja California Sur. Known for year-round sunny weather, sport fishing, excellent golf courses, easy accessibility and a host of exciting activities, Los Cabos has gained a spot among the world's finest travel destinations. Vacation rentals range in size from 2 to 10 bedrooms. The company's villa rentals range from intimate family-friendly villas to lavish beachfront estates complete with private putting greens, wine cellars and expansive pool terraces overlooking the Sea of Cortez.
In addition to showcasing the leading villa professionals, Condé Nast Traveler highlighted a number of unique villa properties in their March edition. Among those featured is Villa Ventana al Cielo in Cabo San Lucas. This striking 6-bedroom villa offers sleek modern architecture and beautiful views of the Pacific Ocean. Located in the private Pedregal neighborhood of Cabo San Lucas, the villa is just a short drive to Cabo's world-class marina, beaches and downtown nightlife.
With the increasing popularity of vacation rentals for family and group vacations, working with a villa specialist can reduce the stress and guesswork of finding an ideal property. Byrd explains that "an expert can help a guest select a perfect villa for their individual needs, and can explain each property's unique features."
To browse more of the company's vacation villas, visit http://www.Cabovillas.com/villas .
About CaboVillas.com (Earth, Sea & Sky Vacations)
Specializing in Los Cabos vacations for 25 years, CaboVillas.com (Earth, Sea & Sky Vacations) represents over 100 private villa rentals and 50 Cabo resorts. The company's knowledgeable staff offers an unparalleled level of personalized travel service, customizing a complete experience for each guest. CaboVillas.com also offers in-villa spa and chef services, private jet and yacht charters, tours, golf reservations, fishing charters, ground transportation, a 24-hour Cabo San Lucas concierge team and full event/destination wedding coordination.
Facebook: [http://www.Facebook.com/CaboVillas
Twitter: http://www.twitter.com/Cabopro
Contact:
Julie Byrd
1-800-745-2226 x 107