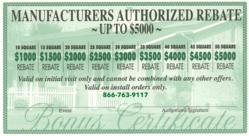 "If you have been considering roof replacement, April in the month to make it happen. These rare manufacturer authorized rebates makes your investment in a permanent metal roof even a greater value." - Frank Farmer- President American Metal Roofs
Grand Blanc, MI (PRWEB) April 04, 2013
American Metal Roofs of Grand Blanc, Michigan is excited to announce a series of manufacturer authorized rebates up to $5000 on the purchase of a new Metal Roof. These rebates are offered through Classic Metal Roofing Systems and will be valid throughout the month of April.
There are a series of nine rebates available, ranging from $1000 to $5000 based on the size of the roof. The bigger the roof, the greater the rebate.
These rebates are valid on the initial visit only and may not be combined with any other offers. They are also valid on installed orders only.
"If you have been considering roof replacement, April is the month to make it happen. These rare manufacturer authorized rebates makes your investment in a permanent metal roof even a greater value."
-Frank Farmer- President American Metal Roofs
Customers are urged to visit a show room or call American Metal Roofs to learn more.
View the TV ad: http://jim.wistia.com/medias/rboz8b15ag
About Classic Metal Roofing System:
Classic has been manufacturing "the world's most beautiful metal roofs" since 1980. They have a wide breadth of products in aluminum and copper that create beautiful facsimiles of traditional shakes, shingles, slates, and tiles. For more information about Classic, visit http://www.classicroof.com.
About American Metal Roofs:
American Metal Roofs provide residential and commercial metal roofing products and services throughout Michigan. Customers receive stunning, permanent, energy-saving metal roofs, professionally installed.