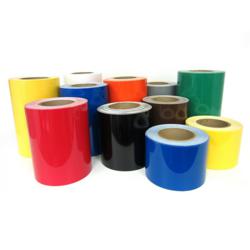 "We use the premium labels on outdoor structures and feel very confident they will last a long time in the elements."
Lake Oswego, OR (PRWEB) April 05, 2013
Pipes that require markings to promote safety and improve productivity are usually found in industrial plants, schools, malls, and the list goes on. However, there are many pipes that are exposed to the outdoors where temperatures can range from very cold to extreme heat. Labeltac.com is now offering premium vinyl labels that are engineered from extremely high-grade vinyl and is designed to last 5+ years in outdoor applications, and even longer for indoor use.
Premium vinyl labels offer outstanding durability, flexibility and printability for a wide variety of industrial-grade label and sign applications. Labeltac.com premium labels will work with LabelTac 9, LT4 and LT4 Pro printers (also offered through Labeltac.com). These labels can be used in conditions as low as -40 degrees F and as high as 200 degrees F. The adhesive backing is extremely strong and won't leave a residue when removed. Premium labels are resistant to UV, water, chemicals and are smear resistant.
The features of the labels make them ideal for use in areas where the weather can be brutally cold to extremely hot. The added comfort of knowing the labels will not just fall off reinforces the pipes or materials will continue to be identifiable. When weather takes a turn for the worse, relabeling in freezing or scorching heat is not something one wants to do over and over again.
Premium labels are ideal for 5S programs generating visual communication to promote safety. They are available in a multitude of colors that comply with ANSI/ASME color code standards.
A construction worker commented, "We use the premium labels on outdoor structures and feel very confident they will last a long time in the elements."
For more information about Premium Vinyl Labels, please visit http://www.labeltac.com/ or call toll-free (866)777-1360 to speak with a professional representative.