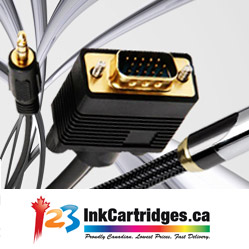 Lachine, QC (PRWEB) April 04, 2013
The Canadian based company, 123inkcartridges.ca recently announced the addition of a line of Star Tech products to their growing product list. One of the latest of these additions includes the Star Tech 6 ft. High Speed HDMI Cable. Star Tech products are being added due to an attempt to meet growing customer needs. HDMI cables are used for connecting a wide variety of entertainment devices such as game centers or blue ray disc to a television set. The cable was added to the inventory because this has become an essential in most modern homes and 123inkcartridges.ca is trying to meet the current needs.
The Star Tech HDMI cable has a specially designed swivel located near the connector. This design allows the HDMI cable to be used in tight or narrow spaces where most cables will not fit. The cable supports bandwidths up to 340 MHz and displays resolutions up to 1440 pixels. It is expertly designed to offer consumers a high definition picture and it is backed up by the Star Tech lifetime warranty.
This latest addition, the Star Tech HDMI 6 ft cable can be viewed along with all the products available at the online store: http://www.123inkcartridges.ca/accessories-product/Cab_HDMIROTMM6.html. The full line of Star Tech products that have been recently added to the online retailer's inventory can be viewed at the online location where they will find an exceptional customer service team who is ready to assist in the event that they need assistance with an order. Their customer service department is very good about answering questions that customers have occasionally as well.
About 123inkcartridges.ca
The online distributer, 123inkcartridges.ca began several years ago by offering great deals on printer ink and toner cartridges. They business goals included offering customers only the highest quality products but keeping prices in an affordable range. They quickly gained popularity with consumers across North America and began to add a wide variety of computer related products to their growing inventory. Recently they have added more varieties of useful products to meet the growing demands of their customers. The company has an inventory of over 10,000 products today. This inventory can be viewed online at http://www.123inkcartridges.ca.