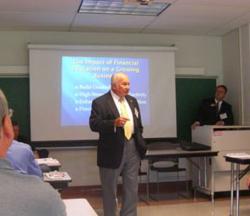 The IARFC has helped us to grow our school. Toegther we are uniquely positioned to help future generations of financial consultants meet and merge with past generations. --Al Colletti, the Institute for Financial Education.
Middletown, OH (PRWEB) April 08, 2013
A life long learner himself, Coletti has successfully helped three generations of clients with asset management service and continues to mentor and promote a philosophy of knowledge and education. While enjoying a comfortable retirement lifestyle in Arizona, he regularly returns to his business base on Long Island and through the IFE, helps others understand concepts relating to Practical Money Management.
For the general public, the IFE offers generic, non-product oriented education in a classroom setting having little or no involvement with a financial planning firm - just practical money management. The separation helps attract adjunct professors at a national level as faculty.
For the professional, Coletti advocates that financial consultants of all ages and disciplines work together in harmony to educate the general public. "We are not competitors looking to win awards and trips; we are colleagues interested in helping others make smart decisions about their wealth. We should work together as a team of specialists."
Aligning with IARFC, the Institute offers courses in practice development and business consulting that lead to the RFA and RFC professional designations. "Al's passion for the education of financial professionals has enhanced the careers of many advisors," says Chairman of the Board of the IARFC, Ed Morrow. "And through them, he has improved the economics of thousands of families and businesses "
Coletti's future plans now are to build a school - not a bricks and mortar institution, but a concept of ongoing education concerning all types of learning for the public and the financial professional. "Knowledge is power and education is the key to a successful future," acknowledges Coletti. "This is a lifelong project that will enhance the future of financial services for generations. And anyway, what else will we do with the next 50 years?"
Click here to read the full Coletti interview in the April Register.