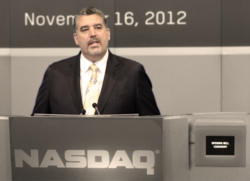 Eric J. Hall has unveiled his new blog as an effort to spark the global conversation on Alzheimer's disease.
New York, NY (PRWEB) April 03, 2013
Former founding President and CEO of the Alzheimer's Foundation of America, Eric J. Hall released his first major blog entry on his new Alzheimer's website, EricJHall.com. This article will mark the official opening of Hall's website and blog which has been launched in an effort to help provide families and individuals from all over the United States with a new comprehensive resource for Alzheimer's insight. His first post shares his insight and commentary on President Obama's newly proposed $100 Million BRAIN program.
After stepping down as President and CEO of the Alzheimer's Foundation of America, Hall is embarking on a new effort to provide new commentary and insights on Alzheimer's disease and to help bring a stronger awareness to this devastating illness worldwide. After President Obama announced the proposed $100 million program, known as the BRAIN project, many had questions about how this would impact Alzheimer's research. While details of how much of the funding would go directly to Alzheimer's research and care was unclear, Hall unveiled his new blog to help clear up many the questions about Obama's new initiative and to help start a dialogue about this and other related research programs.
The accomplished longtime advocate is unveiling this new site as part of a larger effort that will be engaging the global conversation on Alzheimer's disease. With this newly launched blog, Hall will not only be sharing information on Alzheimer's disease, but providing his own unique commentary weekly on the condition and on the current progression towards finding a cure.
For more information on the new website and on Eric Hall's insight on the Obama Brain project visit http://www.EricJHall.com.
About Eric J. Hall:
Eric J. Hall is one of the country's leading Alzheimer's advocates and has spent his career educating the world and helping to build awareness for this disease.
Under his leadership and vision, the AFA along with more than 1,600 members has helped improve awareness and care for Alzheimer's patients. Hall has also sat on the Advisory Council on Alzheimer's Research, worked with the US Secretary of Health and Human Services and spearheading the first Alzheimer's disease telethon. Hall's efforts to find a cure continue with his latest venture with EricJHall.com.
More information on Eric J. Hall and his newly launched website, visit http://www.EricJHall.com.