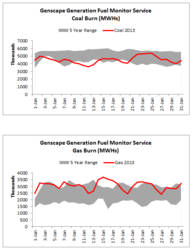 "As gas prices have recently reached $4.00/MMBtu the economics behind fuel switching are dramatically different than last year," says Genscape Analyst Stephen Maestranzi.
Boston, MA (PRWEB) April 04, 2013
According to Genscape's Generation Fuel Monitoring Service, the rising price spread between coal and natural gas is helping coal take back market share from natural gas in the power generation sector. While March electricity demand increased 2% over March last year, natural gas fired generation plummeted 11% below March 2012 levels. Renewable energy generation also decreased 14% in March of 2013 versus last March. Coal fired generation captured nearly everything lost by renewables and natural gas, surging 21% higher in March of 2013 compared to March 2012.
"April 2012 was the first time in history that natural gas fired electricity generation was as high as coal fired electricity generation, however as gas prices have recently reached $4.00/MMBtu the economics behind fuel switching are dramatically different than last year," says Genscape analyst Stephen Maestranzi. Genscape estimates that over the past year gas prices have risen more than 60%, while coal prices are only up about 2%. As a result, in March coal fired generation was 53% higher than gas fired generation. "At this point last year, natural gas was economically competitive with nearly every delivered coal – even low cost Powder River Basin coal. Now only higher heat content coal delivered to the Southeast US remains out of the money," Maestranzi says.
In addition to increased cost competitiveness, coal's surge has also been helped by stronger year-over-year power demand. March 2013 stood in stark contrast to March 2012 as colder than average temperatures developed over the much of the Eastern US, extending the winter season. National power demand was up 2% compared to a year ago. Warmer than average temperatures were generally limited to the Western US, which saw warming conditions compared to the previous month. The strongest cold of the month was concentrated across the coal-centric Upper Midwest where winter-like conditions continued well into March.
Renewable generation took the largest year-over-year hit in March, dropping 14% (6,370 GWh). A major driver of this was weaker hydro output in the Northwest. Genscape's proprietary monitors on hydro facilities in the region saw a 36% decrease in 2013 – falling from 10,808 GWh to 6,945 GWh – on significant declines in snow water equivalent.
Year to date trends in 2013 are consistent with the March results. Overall, total year-to-date (through March 31st) power demand is up 2% and coal fired generation is up 12%. Natural gas (-8%), nuclear (-1%), and renewables (-3%) all continue to lag their 2012 output levels.
Information and Analysis on daily fuel consumption at US power plants for all power sector fuels is available as part of Genscape's Generation Fuel Monitor Service. For more information about Genscape's Generation Fuel Monitor Report please contact Robert Limp at 866-292-8060 or visit info.genscape.com/fuelmonitor-press to register for a trial.
About Genscape
Genscape is the leading global provider of energy information for commodity and financial markets. Utilizing patented technologies and proprietary algorithms, Genscape provides accurate & timely data on capacities, flow and utilization for all major energy commodities. With thousands of sophisticated energy monitors strategically deployed all over the world, Genscape is unique in its ability to measure and collect energy market fundamentals. These "measured actuals" are then transmitted to clients in real-time or near real-time. Genscape clients often gain first-mover advantage and increased market transparency to better optimize their positions. For more information, please visit: http://www.genscape.com