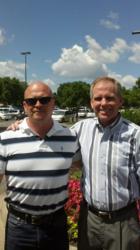 Phoenix, Arizona (PRWEB) April 03, 2013
Good sleep affects life around the globe and plays a critical role in our happiness, relationships, job performance, achieving ones aspirations and everyday safety. It is for this reason that Koala Centers for Sleep Disorders is focused on one thing and one thing only…sleep. These centers were named after the koala because koalas have been known to sleep up to 16 hours a day.
David Gergen, President and CEO of the Pro Players Health Alliance states, "We have adopted the Koala Centers for Sleep Disorders as the key provider for our players for many reasons. One in particular is their seamless systems and consistency in treatment. We can depend on their services and professionalism." Koala Centers provide a complete and comprehensive operations manual, which includes standards, services and procedures for efficient performance.
Mr. Gergen also expresses how he likes the fact that the primary goal of a Koala Centers are to help people sleep, breathe and live well through focused healthcare solutions. The team behind Koala Center for Sleep Disorders has demonstrated the ability to fully connect the dots of a medical clinic, a dental office, and a sleep boutique. They have combined everything into one professional, efficient and attractive setting.
Providing training and ease of billing are hallmarks for Koala Centers. Clinical Director for Koala Centers, Dr. Bradley Eli states: "We recognize that training is absolutely essential in treating the disease of obstructive sleep apnea, which is why we are relentless when it comes to providing classroom and hands on in-clinic training for every member of the team." Dr. Tara Griffin, owner of the first Koala Center tells us, "I am most appreciative of the training my staff and I have received; it has made all the difference in the success I have been able to achieve."
Dr. Rod Willey, President and CEO of Koala Center for Sleep Disorders describe what motivated him for the inception of the company: "If your goal is to be the best, choose one thing and do it well. Make it your total focus every day, and leave all other distractions behind."
Dr. Gary Core is the first in Arizona to own a Koala Center for Sleep Disorders and will be sponsoring a "Tackle Sleep Apnea" event with Pro Player Health Alliance on April 18. This free event will be focusing on spreading awareness of the deadly disease and ways to seek treatment through NFL greats. Register today and come learn how Sleep Apnea is affecting you or a loved one while meeting current and former NFL stars!
Event Details
Location: Sheraton Crescent Hotel 2620 West Dunlap Avenue, Phoenix, AZ 85021
Date: April 18, 2013
Time: 6:30 p.m.-8:30 p.m. (MST)
Phone: 602.863.3411