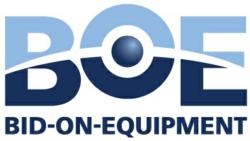 President Larry Lebedun "I am confident that with the re-launch of our site we are now prepared to drive innovation and change within our industry."
Algonquin, IL (PRWEB) April 05, 2013
Bid-on-Equipment.com, after 10 years of continuous growth in the marketplace of used machinery and equipment, completed a 'from scratch' rewrite of their website and back-end order processing systems that simplifies the processes of listing, purchasing and selling online. While maintaining the personalized customer interaction that has made them a stand out in a field of online dealers and auction sites, the new MyBidon portal allows registered customers to keep track of their inventories, answer questions posed by potential customers and maintain records of their prior transactions through an elegant, simplified interface. Enhanced capabilities such as category watch lists, interactive messaging and order monitoring were key improvements from the previous version of the site.
Undertaking a full rewrite of their site became a necessity as inventory and sales growth in many categories such as Restaurant and Bakery, Pharmaceutical and Machine Tools pushed the legacy site to its limits. Determined to ensure the continuation of their successful and unique customer experience, President Larry Lebedun decided to seize the opportunity for change, while still prioritizing Bid on Equipment's sales model of online convenience paired with direct human contact for every transaction. In his own words, "We analyzed, stripped down then rebuilt our processes which has helped us more sharply focus our attention on our buyer's and seller's needs. I am confident that with the re-launch of our site we are now prepared to drive innovation and change within our industry."
Personal customer interaction has always been the cornerstone of the Bid-on-Equipment culture and is supported by the new backend automation, which allows the sales and customer service staff to have access to all transactions, which greatly increases their flexibility and efficiency. Vice President of Sales Marta Guzzardo offered "Purchasing used machinery involves many aspects, from getting your questions about the item answered, to the process of negotiating price to arranging the shipment. In speaking directly with our customers, we are able to lend our expertise and an additional level of confidence to what can be a rather complicated process."
It is important that customers, both buyers and sellers, have a trusted partner that has both the tools and knowledge to assist in getting a deal done as efficiently as possible. Often, purchasing used machinery can be a daunting task both from the investment that is being made by a small business owner and the time required to locate, negotiate and complete the sale. Historically, the time to finalize a transaction and acquire your purchase can run from weeks to months, which can drive a high cancellation rate. With BoE 2.0's streamlined documentation and customer requirements, order processing times have dropped from weeks to days. Senior Sales Manager Lauren Winton said "The new system provides the tools that my team needs to respond to our customers quickly. Our processing time has improved significantly."
Bid-on-Equipment.com is an online marketplace for the buying and selling of Industrial Machinery and Equipment based in Algonquin, IL. Listing and placing offers on items on Bid-on-Equipment.com is always free of charge.
Please see the website http://www.bid-on-equipment.com or email to socmedia(at)bidonequipment(dot)com for more information.