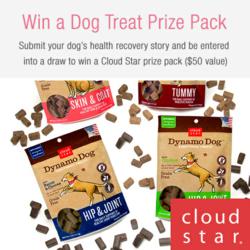 We rely heavily on our followers and website audience for their inspiring dog health recovery stories. We love our online community and feel doing things like this is necessary to ensure it continues to thrive
(PRWEB) April 04, 2013
The Dog Help Network is known for sharing encouraging dog health recovery stories, which are sent to them from dog owners from around the world. From mange in dogs, allergies, diarrhea, and much more, the Dog Help Network has you covered. Throughout the month of April 2013, they are holding a contest where one lucky individual will win a Cloud Star dog treat gift pack ($50 value).
The Dog Help Network is encouraging their audience to share their stories this month, which will automatically enter them into the contest. The winner will be selected via a random draw at the end of of the month (April 30th). Learn about the contest details and enter here.
"We rely heavily on our followers and website audience for their inspiring dog health recovery stories" says Chris Onyett, the founder of Dog Help Network. "One person's story can have a huge impact. Our goal is to provide a resource where people who are going through a tough time with their dog's health can get relevant information and help through other's experiences."
This dog health focused company holds contests frequently as a way to both encourage and thank their audience for sharing their stories. "Without them we're just another information resource site. We love our online community and feel doing things like this is necessary to ensure it continues to thrive."
The Contest Sponsor
The contest is being sponsored by Cloud Star - All Natural Pet Products. The company produces treats free of corn, soy, artificial colors, artificial flavors, byproducts, and preservatives.
About the Dog Help Network
The Dog Help Network is a leading online resource for dog health. Dog owners can find current and trustworthy information on illnesses and conditions that are known to commonly affect dogs. Symptoms to help diagnose the issue, treatment options, natural remedies, causes, and prevention tips are provided for each health problem.
The Author
Chris Onyett is a designer and a passionate writer on promoting dog health. He created the Dog Help Network after an experience with his own dog, Kupo. He learned that doing proper research and learning from others' experiences can be just as important as taking a veterinarian's advice. Connect with Chris on Google+.