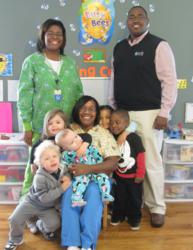 "It is always a joy to visit the child care centers and see the kids play and learn in safe environments" said Jason Knight of Crumley Roberts Law Firm
Reidsville, NC (PRWEB) April 04, 2013
Safe Kids Rockingham County helped several residential child care centers replace cribs with ones that meet new federal crib safety standards. Newly manufactured cribs were ordered and delivered this past week to three centers in Reidsville, NC: A Step Beyond Child Development Home, Chade' Care, and Little Angel's Child Development Center.
The Consumer Product Safety Committee has created new, firmer standards to ensure safer sleeping environments for infants and toddlers. Traditional drop side cribs can no longer be manufactured or sold. Stronger mattress supports and crib slats are also required. All of the crib's hardware is now required to be more durable and undergo stricter testing. These new standards went into effect December 28, 2012.
"We are very pleased to be able to come together as a coalition and meet the needs of the children in our community," noted Alicia Parker from the Rockingham County Department of Public Health and Partnership for Children.
"It is always a joy to visit the child care centers and see the kids play and learn in safe environments" said Jason Knight of Crumley Roberts Law Firm, also a Safe Kids coalition member.
Safe Kids Rockingham County is a county wide coalition of public and private agencies, businesses, and individuals working together to prevent unintentional injuries to children from birth to 14 years of age.