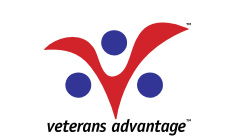 We are excited and proud to honor the American military through this partnership
East Meadow, NY (PRWEB) April 04, 2013
Lufthansa and Veterans Advantage today announced an exclusive military discount benefit partnership – 5 percent off airfares every day for all U.S. Active Duty Military, Military Veterans, National Guard & Reserve and their families who have the Veterans Advantage VetRewards Card.
"We are excited and proud to honor the American military through this partnership," said Juergen Siebenrock, Lufthansa Vice President The Americas. "With an everyday Veterans Advantage travel discount on destinations worldwide, we believe we have the perfect formula in doing something special for such a worthy group of travelers."
"The Lufthansa partnership significantly broadens our travel offerings and continues our philosophy of partnering with best-in-class providers," said H. Scott Higgins, Founder and CEO of Veterans Advantage, and a Vietnam Veteran. "We are pleased that a leading international corporation, and Europe's largest airline, is joining Corporate America in recognizing our members."
Veterans Advantage Members already have a similar discount benefit with United Airlines, and through today's announcement they enjoy the added convenience of connecting services coverage: When booking connecting travel using the United and Lufthansa benefits, the entire itinerary is covered for discount in one booking without having to jump to the other carrier's website.
Veterans Advantage members are able to get discounts on Lufthansa Airlines travel through a special booking link in MEMBERS ONLY. As an added benefit, Veterans Advantage members may enjoy discounted travel and also enroll in Miles and More, the airline's reward points program, to accumulate points on their discounted tickets for future travel. "As a founding partner of the Star Alliance, which also includes our partner United Airlines, Lufthansa's participation in the Veterans Advantage program delivers a multitude of additional worldwide travel options with the power of combining rewards points on that discounted travel through both airlines," Siebenrock added.
About Lufthansa
One of the world's largest and most prestigious airlines, Lufthansa currently flies to 253 destinations in 103 countries, with hubs in Frankfurt, Munich, and with the Lufthansa Group acquisition of Austrian Airlines, Brussels Airlines and SWISS – Vienna, Brussels and Zurich. From its 21 North American gateways, Lufthansa—recently voted by Fortune as one of the five most admired airlines in the world— and its partners serve over 450 destinations in more than 120 countries. An industry innovator, Lufthansa has long been committed to environmental care and sustainability, operating the most technologically-advanced and fuel-efficient fleet in the world. Its long-haul fleet to and from North America includes the Boeing 747-400 and the 747-8, as well as the Airbus A330, A340 and A380. Currently, Lufthansa has over 160 new aircraft worth about $22 billion on order. Lufthansa is the largest European operator of the A380 and was the launch customer for the new Boeing 747-8, the industries' two most fuel-efficient passenger aircraft. Known for its premium services, Lufthansa continues its $105 million program earmarked for building new or upgrading existing lounge facilities across its worldwide network and will spend more than $3.6 billion in new onboard products and services by 2015. In 2010, Lufthansa re-launched its broadband wireless Internet service onboard, FlyNet. For more information or reservations, visit http://www.lh.com.
About Veterans Advantage Veterans Advantage, established over a decade ago by a group of highly decorated U.S. Military Veterans, is the nation's leading card benefits program dedicated to "Giving Back to All Who Serve." The program's mission is to deliver respect, recognition, and rewards for U.S. Active Duty, Military Veterans, Retired Military, Active and Retired National Guard & Reservists, and their family members, who have served in all branches and periods of service with a benefits package that includes a personalized ID card to access savings and printed Benefits Directory. The program provides free bonus offers and exclusive savings offers as a thank you for service to the country from top patriotic companies, including United and Lufthansa Airlines, Amtrak, Greyhound, Wendy's, Ford and Lincoln, Verizon Wireless, CVS/pharmacy, Apple, Dell Computer, Foot Locker, Target.com, Choice Hotels, Avis/Budget Group and Dollar/Thrifty, among others. Veterans Advantage's "Free Bonus with Membership" includes $55,000 of Travel & Accident Insurance Coverage, Travel Planning and VIP Concierge Services from Chartis, and a personal financial planning and advice hotline package.
Qualified applicants can enroll at http://www.veteransadvantage.com.