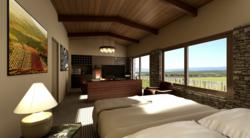 Buenos Aires, Argentina (PRWEB) April 04, 2013
Basking in the exuberant reviews garnered by its new Palermo Tower in Buenos Aires, P Hotels today announced it has commenced construction of its third hotel, Auberge du Vin, in the heart of Argentina's internationally renowned wine country. Auberge du Vin expects to be hosting its first guests in April 2014 during grape harvest season.
Ensconced within a private vineyard, the elegant 28-suite Auberge du Vin is spectacularly situated at the foot of the Andes, in breathtaking Uco Valley, outside the city of Mendoza and behind the gates of Tupungato Winelands. As the world's first wine country club, Tupungato Winelands blends private vineyards, polo, golf, and spa treatments to create an unforgettable experience for hotel guests. Internationally praised for its Malbec varietal, weather and full menu of activities, Uco Valley is acknowledged by sophisticated travelers as a world-class destination. The Malbec and Pinot Noir grapes harvested in the Auberge du Vin vineyard will be used to create estate wines crafted by renowned oenologist Michel Rolland and served at the hotel.
P Hotels is a highly acclaimed U.S-based operator that currently offers Palermo Place and Palermo Tower in one of Buenos Aires' trendiest districts. A fourth hotel is planned for Bariloche, a four-season, mountain and lake recreational paradise. P Hotels is owned by U.S-based Grupo EMR, which also develops each of the branded properties. Although P Hotels are noted for their superb locations and intimate ambiance, the properties are most often praised for the friendly, highly personalized service provided by the knowledgeable staff members.
"The success of our hotels in Buenos Aires has been very gratifying," said Grupo EMR CEO Edward Rubio. "We are committed to earning the same accolades at Auberge du Vin."
Prior to becoming a hotel developer and operator, Rubio traveled the world as a financial services executive. "Of all the countries I visited during my career in the financial sector, Argentina clearly offers the best combination of natural beauty, friendly people, diverse adventure, and exceptional value. When all four of our hotels are open, we will offer the ultimate Argentine experience – Buenos Aires, Mendoza and Bariloche, all easily accessible during one incredible vacation."
Rubio observed that for North Americans any additional time and airfare costs associated with a visit to Argentina is more than offset by the amazing affordability of lodging, dining, fine wine and almost all other travel expenses.
For those with a larger appetite for the delectable Argentine lifestyle, Rubio is offering a worry-free, no-hassle way to own real estate in P Hotels' three locations. He has teamed up with DCP International, which pioneered the luxury residence club concept, to create The Residence Club of Argentina. (http://www.residenceclubofargentina.com) Members will have equity interests in Buenos Aires, Mendoza and Bariloche hotel suites and unlimited use, subject only to use by other members. Rubio said one of the most attractive aspects is that the P Hotel staff takes care of all the ownership responsibilities and makes each Argentine vacation seamless, whether the visit incorporates one or all three of the Club locations.
"The only thing our members have to worry about is when they are returning for another incredible vacation in a truly amazing country," Rubio said. He also noted that a few Auberge du Vin suites are available for whole ownership purchase and inclusion in the hotel's rental program (http://www.finca84.com).
For more information on P Hotels or the Residence Club of Argentina contact Eddie Rubio at 1-435-200-3411