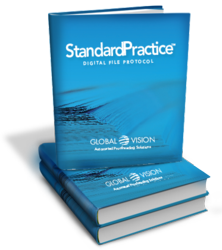 Montreal, Canada (PRWEB) April 04, 2013
Global Vision, the industry leader in the development of automated proofreading solutions, today announced that it will be hosting the StandardPractice New York City seminar. This is the second seminar in Global Vision's international line up of StandardPractice events. Join The StandardPractice Group, Thursday, April 25th 8:30am – 5:00pm in NewYork City.
The StandardPractice is a collection of best practices that focus on the issues, risks, solutions and tools for digital file creation. It outlines the necessary steps to be taken when planning, conducting or creating projects involving digital files such as artwork. It can be used as a suggestion, guideline or rule for best practices, facilitating workflow processes and professional development for both the organization and its employees.
Topics of discussion

Why is it important to standardize?
Why aren't all PDFs alike?
How to standardize on symbols and characters
How to make sure you are using the right fonts
Right-to-Left languages
PDF X
Who should attend?
The StandardPractice NYC seminar is designed to be valuable to all professionals who are involved in the creation of digital files including:

Graphic Artists
Printers
Labelling Specialists
Quality Assurance Managers & Analysts
Packaging Managers
Project Managers
Pre-Press Managers
Proofreaders
Mark it on your calendar
When: Thursday, April 25th 8:30am – 5:00pm
Where: Double Tree by Hilton Times Square South, 341 W 36th St. New York, NY 10018.
Cost: $249/person. This special price includes the seminar plus a 1 year StandardPractice membership ($199 value)
Going to Interphex? We are situated only 5 minutes away from the Jacob Javits Center where Interphex is taking place.
About Global Vision
Global Vision is the world leader in the design and delivery of automated proofreading solutions. Its complete suite of advanced solutions featuring text-based, pixel-based and Braille inspection technologies are designed to eliminate printed artwork, text verification, and text comparison related errors, providing end-to-end security at every stage of the workflow process.
Global Vision solutions are widely interoperable and have received commercial endorsement from the world's leading Pharmaceutical, Consumer Packaged Goods (CPG), and Artwork Management companies.
Headquartered in Montreal, Canada, Global Vision has worldwide representation. For more information, please visit http://www.GlobalVisionInc.com.