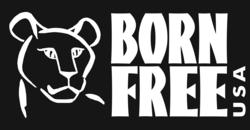 Washington, DC (PRWEB) April 04, 2013
In reaction to recent reports that the demand for fur in China is causing a revival of fur farms in the U.S. (AP Story http://www.sacbee.com/2013/03/21/5280452/us-mink-pelt-prices-skyrocket.html#storylink=misearch), Born Free USA wants the public to be aware of the animal welfare and environment consequences. The leading animal welfare and wildlife conservation organization estimates that there are over 270 fur farms in the U.S., with approximately 3 million mink killed every year. Wisconsin, Utah, Idaho, Minnesota, and Oregon are home to the highest number of fur farms on record.
According to Adam Roberts, Executive Vice President of Born Free USA, "The fur farming industry causes horrific animal suffering and poses serious risks to the environment. Like any other factory farm, they produce massive animal waste (manure) that is too concentrated to be neutralized by natural processes. Excessive nitrogen and phosphorus are the most common causes of water pollution in this country."
A recent Associated Press article (March 21) reported that due to increased demand for fur by China, Wisconsin mink fur farmers were rebounding from decades of low sales. On April 1, 2013 the Washington Department of Ecology (http://www.ecy.wa.gov/news/2013/098.html) fined two Washington State mink farms $48,000 for discharging water contaminated with manure into nearby creeks that support important salmon spawning habitat.
According to Roberts, there are no U.S. laws regulating how animals on fur farms are to be housed or killed. Animals raised for fur are not covered under the federal Animal Welfare Act. The slaughter of furbearing animals is also not covered by the federal Humane Slaughter Act. Meaningful regulation are also lacking at the State level as Born Free USA reported in their 2009 report Cruelty Uncaged: A Review of Fur Farming in North America.
"The fur industry and its apologists want us to believe that fur farming is a humane, environmentally friendly, and highly regulated industry. Nothing could be farther from the truth," said Monica Engebretson, senior program associate with Born Free USA. "Conscientious consumers and designers should not buy that message. It is time for the U.S. to match international progress on this important issue and ban fur farming."
Roberts explains, "Fur farming suffers a low position on the U.S. political agenda. As a result, the U.S. lags far behind European countries such as the United Kingdom, Italy, Sweden, Switzerland, Denmark, Austria, the Netherlands and Croatia, which have banned some or all fur farming." In December 2012 the Netherlands -- Europe's third largest producer of mink -- approved a ban on mink farming that will be enforced in 2024. In early March 2013, Slovenia passed a law banning all fur farming.
Many national and international retailers have ceased selling fur and have put their fur-free commitment in writing by signing onto the international Fur Free Retailer program (http://www.furfreeretailer.com ). Likewise design competitions like Fur Free Fashion "fffashion" http://www.bornfreeusa.org/fffashion, are encouraging forward-thinking designers to forgo fur.
Born Free USA is a nationally recognized leader in animal welfare and wildlife conservation. Through litigation, legislation, and public education, Born Free USA leads vital campaigns against animals in entertainment, exotic "pets," trapping and fur, and the destructive international wildlife trade. Born Free USA brings to the United States the message of "compassionate conservation" -- the vision of the U.K.-based Born Free Foundation, established in 1984 by Bill Travers and Virginia McKenna, stars of the iconic film Born Free, along with their son Will Travers, now CEO of both organizations. Born Free's mission is to end suffering of wild animals in captivity, conserve threatened and endangered species, and encourage compassionate conservation globally. More at: http://www.bornfreeusa.org; Twitter twitter.com/bornfreeusa; Facebook facebook.com/BornFreeUSA.