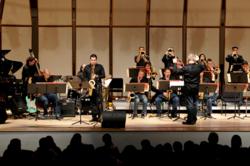 Sunny Isles Beach, Florida (PRWEB) April 04, 2013
The City of Sunny Isles Beach is excited to announce the next installment of our Four Seasons Cultural Series, with the Florida International University Jazz Big Band on Sunday, April 14, 2013. The group, led by Director Jim Hacker, will perform pieces chosen to appeal to all music-lovers.
This event is FREE for Resident ID Card Holders and $5.00 for all others and is scheduled at 6:00 pm in Heritage Park (19200 Collins Avenue, rain location Pelican Community Park Gymnasium). Guests will enjoy this opportunity, to come together with friends and neighbors, meet new friends, and experience an evening designed to enrich our community. Dancing to the tunes is encouraged! Director Jim Hacker will narrate throughout the evening, to provide background and historical information about the pieces.
Food will be for sale before and during the performance. A reception with the musicians will follow the performance. Free parking is available in the parking garage at the park or under the William Lehman Causeway beginning at 5:30 pm. The city Shuttle Service will be running on a special events schedule prior to and during the event.
The Four Seasons Cultural Series is brought to Sunny Isles Beach with the commitment to making the classical arts accessible to all ages in our community. Tickets may be purchased at the SIB Visitor Center or Pelican Community Park, for any questions please call 305.792.1706.