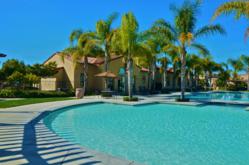 This is an unbelievable time to buy a new home, and Veranza offers excellent value
Chula Vista, California (PRWEB) April 30, 2013
Veranza at The Summit EastLake has experienced strong sales from day one. This comes as no surprise given the combination of great access to amenities with incredible value that the community offers. Cornerstone Communities' Veranza continues to represent a fabulous opportunity for homebuyers to become part of a very special community - The Summit EastLake. Due to the high demand and outstanding success of Veranza at The Summit EastLake, Cornerstone Communities has recently revised the projected close-out date to a full year earlier.
At Veranza, buyers receive the features and amenities they expect. All 111 homes feature a two-car side-by-side attached garage, three bedrooms and two-and-a-half baths, Plan 3 also features a loft. Residences range from 1,280 to 1,656 square feet. Luxurious interiors include an impressive master suite with walk-in closets and compartmentalized water closets. The gourmet kitchens feature dependable Whirlpool® stainless steel appliances. These luxurious duplex homes start in the mid $200's. Veranza showcases Spanish, Santa Barbara and Craftsman inspired architectural exteriors.
"This is an unbelievable time to buy a home, and Veranza offers excellent value" said Cornerstone president Michael Sabourin, adding that this market presents great opportunity for first-time homebuyers who can take advantage of excellent prices and some of the lowest interest rates seen in decades.
Veranza at The Summit EastLake is located very close to the Wal-Mart & Home Depot shopping centers and just a few blocks away from the magnificent Otay Ranch Town Center Mall at the intersection of EastLake Parkway and Olympic Parkway. This ideal location offers convenient access to an array of shopping and services, as well as plenty of restaurants.
EastLake in Chula Vista offers the best selection of beautiful homes, exciting recreation and a sense of community like no other. In fact, EastLake has been voted the Best New Home Community in San Diego by the San Diego Union-Tribune Readers Poll since 1997!
There's something in the air there. EastLake has everything a family would ever need — schools, parks, shopping, services — all within the community.
In addition to the vast amenities of EastLake, The Summit community has several private recreation areas. Provided exclusively for resident's entertainment, these recreational spaces include pools, spas, an outdoor barbeque and dining area as well as a playground. The recreational areas are conveniently located and easily accessible from anywhere in the community.
The expansive main pool and recreation center is the centerpiece of the community's largest recreational area. Lounging spaces line the length of the pool on either side. The pool cabana features bathroom and shower facilities. In addition to the main pool this recreational area offers many other desirable outdoor-lifestyle amenities. A spa and separate children's pool can be found at either end of the main pool.
Cornerstone's Design Center offers a wide variety of options and upgrades to customize the home, including flooring, countertops, window coverings, cabinetry, advanced network wiring, expanded security systems, appliance upgrades and more.
About Cornerstone Communities:
The Cornerstone team has built over 10,000 homes within over 50 thriving communities in Southern California since 1983. They are currently offering San Diegans a full spectrum of homes and townhomes with seven active communities in Chula Vista, San Diego and San Marcos ranging from $209,990 up to $1.1 million.
"We are committed to serving California families by creating new homes that emphasize inspired design, efficiency and privacy as well as neighborhoods that stand the test of time"

Michael Sabourin, Cornerstone Communities President.
Contact:
Marisela Sandoval, Sales Manager
Veranza at The Summit EastLake
(619) 482-6834
2180 Caminito Novara
Chula Vista, CA 91914
About Prime Lending:
Cornerstone Communities doesn't stop at building dream homes. Through their preferred lender, Prime Lending, they can help finance it as well. A wide range of home financing products and services can be explored with the guidance of a home mortgage consultant.
Prime Lending Contact:
Brian Sabourin
2173 Salk Avenue Suite 100
Carlsbad, CA 92008
Phone: (760) 795-0294
Fax: (866) 908-9034