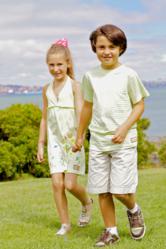 Dhana EcoKids was selected as one of the top 3 companies worldwide for innovation in children's wear at the 2012 SOURCE Awards for Sustainable Fashion.
New York, NY (PRWEB) April 04, 2013
Award-winning sustainable clothing manufacturer Dhana EcoKids will offer a unique product at the New York City Green Festival at Javits Center North April 19-21: organic and sustainable fashion for children ages 4-12. The company will be holding drawings for their 100% organic "Tree" t-shirts (featuring tree images made up of 10 inspiring words) throughout the second two days of the festival, along with a grand prize drawing for $100 worth of Dhana EcoKids sustainable fashions for kids on Sunday, April 21st.
Dhana EcoKids fills a gap in the market for organic clothing, offering hard-to-find eco-couture for children who have outgrown their toddler clothing, but are not yet big enough to wear adult fashions. "There was almost nothing available for older kids," recalls the company's founder and CEO, Shamini Dhana, of her efforts to find sustainable clothing for her first born child in 2008. "So I decided to do something about it. Older kids deserve the comfort of organic clothing, too! And it's important for them to understand the connection between the planet's health and the clothes they wear."
Raised in the Eastern World and possessing family and business contacts spanning the earth, the former banker-turned-designer drew on her international connections to create a brand that is truly global. Dhana EcoKids clothing incorporates artwork from international artists, inspired by different cultures around the world. The company also partners with non-profits, including 1% for the Planet and the arts education organization Kiddo!, to help contribute to planetary culture and sustainability. Dhana hopes that her brand will empower kids to become responsible citizens of the world through the clothes they wear.
In keeping with the company's tagline, "We're Wearin' the World," each Dhana collection incorporates art from a different international artist, inspired by a particular place or culture on Earth. The 2013-14 Collection features the work of Irish artist Elaine Murphy, who chose to depict the wildflowers and renewable energy scene of California. The collection gained international attention last December, when Dhana EcoKids was selected as one of the top 3 companies worldwide for innovation in children's wear at the 2012 SOURCE Awards for Sustainable Fashion.
The Dhana EcoKids Spring/Summer 2013-14 Collection includes a selection of girls' tops and dresses, along with boys' polos, tanks and t-shirts, all made sustainably from 100% GOTS-certified organic cotton and eco-friendly dyes and manufactured ethically and with respect for both people and planet.
Dhana EcoKids fashions can be seen online at http://www.DhanaEcoKids.com, and will be available for viewing and purchase at Booth #807 at this year's Green Festival. CEO Shamini Dhana will be available to speak to the press the afternoon of Thursday, April 18th- Saturday, April 21st. Wholesale buyers are encouraged to visit Booth #807 during the Green Festival's NYC B2B Green Trade Day on Friday, April 19th, free to qualified personnel.
For more information, please contact Dhana EcoKids at (800)840-5431, or email info(at)dhanaecokids(dot)com. A press kit is available at http://issuu.com/sdhana/docs/dhana_press_kit_spring_2013_final.