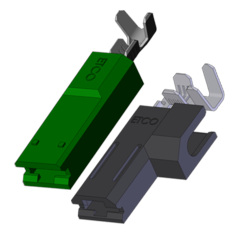 The ability for a manufacturer to customize parts allows them the opportunity to optimize the performance and processing in order to deliver top quality products to customers at the lowest installed cost
Bradenton, FL (PRWEB) April 04, 2013
ETCO Incorporated announced today that its entire line of insulated products will be available in multiple colors for manufacturers to purchase direct from the Company. The Company originally announced a handful of products that were available for multi-colored production earlier this year. As a result of increasing demand for complex custom manufacturing, ETCO will roll out the option for its entire insulated product line.
Some of the products that will see the new multi-color treatment includes the popular closed back insulated disconnect connector that is used in a variety of applications and is particularly common in the appliance manufacturing industry. The multiple color connectors can now be custom manufactured to aid line workers in easily identifying like parts for insertion. Appliance manufacturing line workers in the past would have to use complicated schemes to input single color connectors into the ends of wire harnesses in the end product. This would lead to confusion because all of the connectors were the same color. Line workers can now plug a variety of like colored products into appliances during manufacture and eliminate guesswork and errors.
The custom manufacturing color application will also help in repairing products. By identifying the different colored housing, a repair person can quickly remove the connector and replace it with a working part. The increase in productivity both in the manufacture and repair of products is a boon to appliance manufacturers looking for a way to cut costs and cut down on service incidents while providing higher quality parts to customers.
ETCO initially will provide manufacturers with the ability to purchase these parts in quantities of 500,000 pieces or more. This number represents the flexibility of the Company to manufacture multiple colored housings relatively quickly. One appliance may consist of 30 connections served by these products. It also marks a move into targeted manufacturing that can send custom products relatively quickly to different custom manufacturing centers all over the world.
ETCO's General Manager and Director of Engineering Mike Cummings states, "The ability for a manufacturer to customize parts allows them the opportunity to optimize the performance and processing in order to deliver top quality products to customers at the lowest installed cost." He continues, "The quantity threshold is a testament to ETCO's flexibility in quickly delivering custom parts to customers and that is the future of manufacturing."
Founded in 1947, ETCO is a privately owned company. The Company manufactures precision metal stampings and rubber and plastic molded products used principally by major automotive and appliance manufacturers. ETCO also has major customers in a variety of other industries in the USA and over 30 countries throughout the world. ETCO has factories and a research complex in Bradenton, Florida and a factory and engineering center in Warwick, Rhode Island.
For more information on ETCO, visit the Company website online at http://www.etco.com