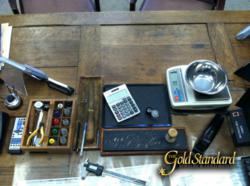 People looking to sell their gold should do their homework. Knowledge about the pieces you are selling and the gold market is the best way a potential seller can protect themselves against being ripped off.
Astoria, NY (PRWEB) April 04, 2013
Gold buying horror stories: friends, relatives, coworkers ripped off by the allure of quick cash. It used to be that pawn shops and cash for gold establishments were relegated to poor urban areas. For years, pawn shops and gold buyers held a sort of sinister reputation, evoking images of dimly lit storefronts with metal grates and bulletproof windows; backrooms and shady characters. But as the price of gold has skyrocketed in recently years, cash for gold businesses have seen a similar boom. With celebrity endorsers, high profile advertising campaigns, and shows like History Channel's Pawn Stars, the cash for gold business succeeded in making itself over, shedding much of the seedy associations it once held. But celebrities and commercial spots do not guarantee that every gold buyer is on the up and up. Many of these businesses still partake in underhanded practices, and consumers should go in knowing how to avoid these scams.
Scott Simon, owner of The Gold Standard in Astoria warns: "people looking to sell gold should do a little homework. Knowledge about the pieces and the gold markets is the best way a potential seller can be protected against being ripped off." Almost all precious metals are stamped to indicate their metal contents. For example, fourteen karat gold will be stamped either "14k" or "585" (14 karat gold is 58.5% gold, and 41.5% base metal), whereas eighteen karat gold will be stamped either "18k" or "750" (75% gold). Some gold buyers will weigh all of the gold together, then offer a price for a lower karat gold. This is why it is important to separate items by these stamps.
Another common scam is for gold buyers to weigh metals in pennyweights – a common measurement for precious metals – but to payout in grams. One pennyweight is equal to 1.55 grams, so a seller who falls for this scam is losing a third of the weight that should be paid for. Simon says: "Look at the scale when jewelry is being weighed. If the scale is weighing in pennyweights, it will say 'DWT.' Also, make sure that the scale has been checked by county's Office of Consumer Affairs. There should be a sticker on the side of the scale that indicates when the scale is up for inspection."
Check the price of gold before selling jewelry. The gold markets fluctuate from day to day. "Some gold buyers will quote the lowest gold price in the past few weeks. The Gold Standard bases pricing on the market value day to day. Always making sure the customer knows what the price is that day."
Finally, it is important to make sure that the company is reputable. You don't just want any gold buyers, you want to find the best gold buyers in NYC. Many cash for gold companies are fly-by-night operations. "Always go into a stand-alone store," Simon warns. "These traveling road shows come into town, and are gone the next day. There is no accountability. Look up reviews for these companies online, call ahead and ask about the process. If something seems fishy, it probably is." It's all about being vigilant. Go into any sale having done some research and know what the end goal is. Take care in preparation and use good judgment.