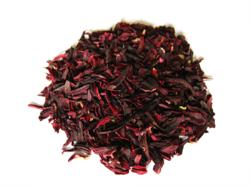 "People unfamiliar with cold brewing Hibiscus might not know that it cold brews in less than ten minutes into a mouthwatering, refreshing, vibrant red infusion."
Boulder, Colorado (PRWEB) April 05, 2013
Today The Tea Spot announces the addition of Organic Ginger Root and Organic Hibiscus Petals to their selection of caffeine-free choices. These herbs were previously available only in blends, but now have the opportunity to stand out on their own or as an addition to any tea.
Hibiscus, known as "sour tea" in Iran, is widely consumed for its many health benefits, including the potential to help manage minor hypertension. Tart and fruity, these flower petals are able to be brewed hot or cold and offer a natural source of Vitamin C and antioxidants. The Tea Spot's Social Media Director, Katie Young, is a fan of the Organic Hibiscus Petals. She stated: "People unfamiliar with cold brewing hibiscus might not know that it cold brews in less than ten minutes into a mouthwatering, refreshing, vibrant red infusion. I make a bottle of cold brew tea with the Organic Hibiscus Petals almost every afternoon with my Steep & Go cold brew tea filter. It tastes great cold!"
Organic Ginger Root is spicy and comforting, and has been known to be recommended to help with health problems such as nausea and blood circulation. Maria Uspenski, The Tea Spot CEO, is a fan of Organic Ginger Root: "I'm not usually a fan of herbal teas, but ginger has such a strong flavor and soothing effect on my throat. I drink it all winter long, either in our Sweet Lullaby handcrafted herbal tea blend, or straight up on its own".
The popularity of organic herbal tea has been growing rapidly as people continue to become increasingly interested in natural and healthier beverage options. The Tea Spot is committed to bringing a wide variety of unflavored whole-leaf tea alternatives to sugary drinks. The demand for organic options has also been rising as consumers search for more natural and sustainable alternatives. In 2013 The Tea Spot has added eight new organic choices to meet these rising demands for organic teas, and pride themselves on being able to offer teas and herbs grown without pesticides or chemicals. Many of The Tea Spot's customers look for organic options above any others. By expanding their line, The Tea Spot now has twenty-one organic options, and the positive responses from customers have been overwhelming.
About The Tea Spot, Inc.: The Tea Spot is a for-profit philanthropic business producing handcrafted loose leaf teas and Steepware® – the tools that make loose tea easy. The Boulder, Colorado-based woman owned and operated company was founded by Maria Uspenski in 2004. A cancer survivor drawn to the health benefits of leaf tea during her recovery, she set forth to modernize the loose-leaf tea experience. Her message is simple and powerful: tea in its freshest form renders incredible flavor, unmatched health benefits, and is eco-friendly. The Tea Spot is a Certified B Corporation and ensures that its products uphold clean, sustainable and fair manufacturing standards. The company's model of social entrepreneurship incorporates a culture of giving as it grows: ten percent of all profits are donated in-kind to cancer and community wellness programs.