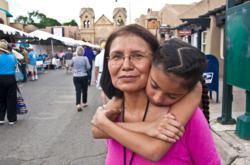 At the Santa Fe Indian Market Children's Activity Tent, kids can create art and learn about Native artists.
(PRWEB) April 19, 2013
The Southwestern Association for Indian Arts (SWAIA) will celebrate its 92nd annual Santa Fe Indian Market on August 17-18, 2013. This spectacular festival brings over 150,000 people to Santa Fe every August with its unique, exciting and inspiring events. From families with young children to avid art collectors, Santa Fe Indian Market attracts visitors from all walks of life.
Indian Market Weekend encompasses a broad range of events and activities, including a children's art activity tent, family friendly film screenings, a Native American Clothing Contest, and traditional Native dance performances.
The children's activity tent is free and art materials are provided. The tent, which is open all weekend, provides children with the opportunity to learn about Native art and watch artist demonstrations. Children will have the opportunity to make their own Native American art. Activities for ages 5 -18 include painting and pottery.
Families can learn about Native art and culture by having the unique opportunity to talk directly with artists at their booths and get up close and personal with beautiful artwork. Children will be delighted to see the artwork by the many youth artists who share booths with their parents. The 2013 Santa Fe Indian Market and Indian Market Week™ will provide a culturally and artistically enriching experience for every visitor, whether they are visiting the market for the first time or back to celebrate year after year.
About SWAIA
SWAIA is an advocate for Native American arts and cultures and creates economic and cultural opportunities for Native American artists by producing and promoting Santa Fe Indian Market Week™, the finest Native American art and cultural event in the world; cultivating excellence and innovation across traditional and non-traditional art forms; and developing programs and events that support, promote, and honor Native artists year-round.
SWAIA is a non-profit organization, and keeps no portion of the sales made by artists during Santa Fe Indian Market Week ™.