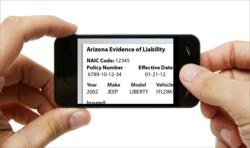 PCI supports modernizing insurance laws to enable insurers to give their policyholders more choices. 11 states introduced e-delivery measures in 2013 that will allow insurers to send documents electronically. Kelly Campbell, PCI vice president
Chicago, IL (PRWEB) April 04, 2013
The digital age dominates many everyday activities of consumers and insurers have embraced new technologies to meet the new and growing consumer demand for a variety of digital communication platforms. As a result, four states this year, Arkansas, Kentucky, Mississippi and Wyoming have enacted laws that will allow drivers to show proof of insurance with their smart phone in a traffic stop. With these four states enacting laws, as of April 2, a total of 11 states now have adopted e-card laws or regulations. This number is likely to grow soon as measures are pending on the governor's desk in Colorado, Indiana and Kansas, according to the Property Casualty Insurers Association of America (PCI).
"Insurers are finding new ways to utilize technology to provide consumers with accessible information when and where they need it," said Alex Hageli, PCI director of personal lines policy. "For example 28 state legislatures are considering legislation in 2013 to allow drivers to show proof of insurance with their smart phone in a traffic stop. As of today numerous e-card measures are successfully moving through state legislatures across the country. Now consumers and insurers have a choice to use the little piece of paper in the glove compartment or use a cell phone to demonstrate proof of coverage."
In 2012 five states approved e-Card legislation including: Arizona, California, Idaho, Louisiana and Minnesota. Alabama approved regulations allowing electronically displayed proof of insurance at both registration and during traffic stops. Colorado already has a regulation allowing electronic proof of coverage when vehicles are registered, and there is a bill awaiting signature on Colorado Governor Hickenloper's desk to allow electronic proof during traffic stops.
E-Card legislation is currently pending in Alaska, Colorado, Connecticut, Florida, Georgia, Illinois, Indiana, Iowa, Maine, Michigan, Mississippi, Missouri, Ohio, Oklahoma, Oregon, Rhode Island (regulation), South Carolina, Tennessee, Texas, Utah, Washington, West Virginia and Wisconsin. Measures are pending on the governor's desk in Colorado, Indiana and Kansas.
"To keep up in today's 24/7 world the name of the game is digital access and communication. Every day consumers conduct more and more business online, and that includes shopping for and purchasing policies as well as filing claims," said Kelly Campbell, PCI vice president for state affairs. "Insurance customers, especially Gen Y policyholders, expect to interact with their insurer through not only their insurance agent, but also through websites, social media, emails and text messages. As more insurance business is conducted online, there is a growing demand for documents associated with those purchases to be electronically delivered."
Last year J.D. Power and Associations issued a survey of the insurance industry entitled, 2012 US Auto Insurance Study Management Discussion, which concluded, in part: "As customer preferences and interaction behaviors continue to evolve, insurers must be prepared to adjust their service strategies to keep pace with those changing preferences. Insurance customers today can no longer be segmented as either Agent or Direct customers, as evidenced by their preferences to interact via not one, but multiple channels… all insurers face the reality that customer expectations are being reshaped by market forces beyond their control – whether through the emergence of devices, such as the iPhone or iPad and platforms such as Twitter or Facebook, or through changing servicing dynamics being introduced in other industries. Every insurer must recognize that adapting to the changing service - channel preferences is a decision of necessity that will need to be made in the not-too-distant future. Ultimately, it all comes down to customer choice – today that choice is rapidly expanding to include a variety of new self-service tools and interfaces."
Insurers are already responding to these changes in policyholder expectations regarding how they communicate with their policyholders. However, in certain instances state laws, written decades ago before the invention of the personal computer or smartphone, must be updated to ensure insurers have the freedom to respond to these changing expectations.
"PCI supports modernizing insurance laws to enable insurers to give their policyholders more choices. 1 states introduced e-delivery measures in 2013 that will allow insurers to send documents to their policyholders electronically," said Campbell. "One e-delivery measure is on Idaho Governor Butch Otter's desk awaiting his signature. Next week, California legislators will consider another bill that will enable insurers to send renewal documents to policyholders via email. Both of these bills are voluntary for both the customer and the insurer."
Idaho's legislation, HB 232, simply clarifies the ability of insurance companies to electronically deliver insurance documents to those policyholders who wish to receive such documents electronically. California's legislation, SB 251, will amend the Insurance Code to allow renewal documents to be emailed to policyholders that request electronic notification. The 11 states that introduced e-delivery legislation in 2013 are: California, Georgia, Hawaii, Idaho, Illinois, Kansas, Minnesota, Nevada, Ohio, Texas and Vermont.
"The one constant in today's marketplace is change and insurers are adapting and trying to update the laws so they can keep in synch with the new ways policyholders want to have their policies serviced," said Campbell. "As more people conduct their personal business online, insurers will look for new ways to meet these changing preferences and state legislatures will be called upon to enact the changes necessary to provide more options and flexibility customers want."
PCI and other insurers are also supporting legislation in several states to encourage the use of paperless policies by allowing insurers to send policyholders to a website to download copies of their insurance policy.
"Posting policies on a website will save reams of paper and enable policyholders to access their policy any time or anywhere," said Campbell. "Having policies available like this will be especially convenient and important following an event when a home is damaged and the paper copy is no longer available."
PCI is composed of more than 1,000 member companies, representing the broadest cross-section of insurers of any national trade association. PCI members write over $190 billion in annual premium, 40 percent of the nation's property casualty insurance. Member companies write 46 percent of the U.S. automobile insurance market, 32 percent of the homeowners market, 38 percent of the commercial property and liability market, and 41 percent of the private workers compensation market.
###
Contact: Nicole Mahrt Ganley
Phone: 916-440-1116
Email: nicole.mahrt(at)pciaa(dot)net