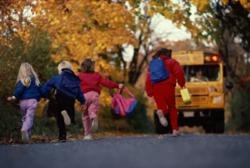 ..the deeper our research went, the more we discovered that we had to address some of the more elementary yet profound psychological barriers that prevent sound school security practices..
Atlanta, Georgia (PRWEB) April 09, 2013
As a leading National security think tank, City Security Inc. has created a simple and concise fundamental road map for school administrators and public officials to adopt in their efforts to create a safer place for children to attend school.
"Originally, the school security report was designed to be a comprehensive set of recommendations for administrators to use as a handbook or kind of school security Bible" States D.A Triplett, CEO and 23 year law enforcement veteran. "But the deeper our research went, the more we discovered that we had to address some of the more elementary yet profound psychological barriers that prevent sound school security practices throughout our nation.
There's still reluctance by many school administrators to view a potential school shooting scenario as a highly probable threat. It's viewed more as an unlucky random occurrence that could potentially happen. And to a certain degree, there's a tremendous amount of truth in that but we can't address school safety that way. We prefer to adopt a more proactive approach to our children's safety much like the Federal Air Marshal Program addresses airline security. Is there a likelihood of a terrorist striking 365 days a year on flights throughout the continental U.S.? Of course not, but nonetheless, the threat of one occurrence warrants a substantial National response in order to thwart just one potential event that could cost a substantial loss of human life.
The groundbreaking article, titled "School Security Basics for Administrators... the beginner's guide." is a departure from the standardized school safety plans because it doesn't just offer recommendations of what should be implemented. It addresses the mindset of administrators and stumbling blocks that have led to a degradation of our nation's school safety measures and offers solutions. Chief Strategy Officer, Patrick Flannigan states "how can you recommend school safety measures in good conscience to administrators who haven't been properly taught the foundational concepts in threat management as it pertains to the active shooter paradigm.
Flannigan went on to say "It's City Security's position that when it comes to school safety measures, the ability to properly rappel a threat will coincide with what's considered a "response" to an active shooter threat".
One of the more compelling components of the City Security "School Safety Basics For Administrators" report discusses the mistake to automatically aligning National gun law conversations with school specific security measures that should be in place irrespective of a National position. The firm offers recommendations regarding school safety that may cross pollinate into a conversation regarding gun control, however the issue of gun control in and of itself, should not necessarily cross pollinate into what is appropriate or best suited for the optimum level of protection for our school systems.
Though gun control and violence in schools may be inextricably linked together in terms of school violence at the hands of a firearm, it is our assertion that school safety parameters are not a key component of our gun control issues as it relates to specifically how to lessen the proliferation of illegal firearms or even legally owned firearms that are used for nefarious purposes in our schools.
City Security's School Safety Basic Plan for Administrators is certain to have a significant imprint in an area ripe for thought leadership regarding preparedness and progressive models of National safety measures for our schools.
City Security is one of the nation's leading security think tanks and firm's specializing in both armed and unarmed security professionals for public places and private entities. For more information on scheduling lectures, training courses or consulting on how to implement their A.S.A.P ™ Active Shooter Action Plan™ for your learning institutions and businesses, you may contact them at 1+866-824-6850 or email us info(at)citysecurity(dot)biz.