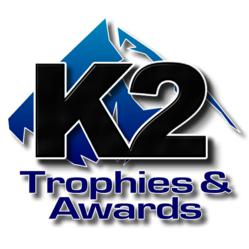 RICHMOND, Va (PRWEB) April 04, 2013
Richmond-based K2 Trophies & Awards and K2Teamworks will have a new location as of this Monday April 8, 2013.
The company is expanding from its 18,000 square foot office on Dabney Road to a new 50,000 square foot facility just down the road on Jacques Street. "Adding capacity and inventory will allow us to hire additional employees, particularly in our screen printing area. We anticipate hiring about 10 new employees this month." said President Charlie Moss. The new building offers a showroom for local teams, business professionals, and customers to view products before purchasing.
For K2 Trophies and Awards, a leading online retailer of awards, the move means more room for growth, increased efficiency in production, and an expanded inventory for the company. "We are very excited to move and expand once again," said Moss. "Our bigger building means that we will be able to expand our product line and work force."
K2Teamworks provides custom screen printing and promotional products. The move, along with a large investment in new equipment, will allow K2Teamworks to more than triple capacity. Jeff Blanton, Operations Manager for K2Teamworks stated "Our business is growing fast and the new space and equipment will allow us to be more efficient and continue to grow our business aggressively."
About K2 Awards and K2Teamworks
K2 Trophies and Awards has been providing trophies, awards, medals, and more since 2002, with the goal of satisfying every customer. With a large variety of trophies and other items in stock, as well as a talented team of trophy builders on hand, K2 Trophies and Awards strives to offer the widest variety of trophies for the best price and the fastest shipping.
K2Teamworks has been providing high quality screen printing to teams and organizations across the country since 2009.