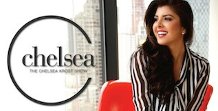 "The millennial audience is often talked about, talked at, but never talked to," says Studio City President Joe Tamanini. "The Chelsea Krost Show will absolutely change that."
New York, NY (PRWEB) April 04, 2013
"The millennial audience is often talked about, talked at, but never talked to," says Studio City President Joe Tamanini. "The Chelsea Krost Show will absolutely change that."
Hosted by communications maven Chelsea Krost, 22, who has written and produced her own radio talk show since she was 16. The Chelsea Krost Show will provide a platform for today's hot topics, trends and issues that affect the Millennial Generation – those born between 1982 and 2002. Krost also hopes to bridge the communication gap between children and their parents, creating a more open, honest dialogue that viewers can relate to in their own lives. The Chelsea Krost Show is the first show in which the host is definitively from the peer group of the audience. http://www.chelseakrost.com
Krost discusses topics that bring the perspective of a younger generation and refrains from the predicable experts and statistics approach, which doesn't work with a younger audience. Krost invites everyday Millennials, as well as celebrities, to discuss entertainment and top news stories, plus social issues from finding a job, to bullying, teen pregnancy, same sex marriage as well as fitness and fashion. There will always be a professional expert discussing the topic and answering questions so Krost can evoke interesting, thoughtful and open-ended conversations among her guests and viewers. The Chelsea Krost Show is also unique, hip, and on-trend with incorporating the pulse of the people through Twitter and Instagram.
"If I can describe my show in three words, they would be shocking, credible, and fun," says Krost. "It'll have a fresh take on talk and, finally, a show where you will hear the perspective of people living it, instead of people trying to understand it."
Krost launched her communications career at the young age of 16, debuting Teen Talk Live with Chelsea Krost on WBZT 1230AM, making her the youngest AM radio host ever. Krost is also the author of her tell-all book, NINETEEN: A Reflection Of My Teenage Experience In An Extraordinary Life. What I Have Learned and What I Have To Share. Now a writer, producer and radio host, she will share her talents on her own television show. No stranger to TV, she has appeared on CBS, FOX, ABC News affiliates, and HLN TV. Krost has been a guest on mainstream shows, such as The Today Show, Anderson Cooper, and Wendy Williams.
"We are ecstatic to launch the first millennial talk show – a first of its kind," says WMCN44 president Jon Gorchow. "I'm confident Chelsea and her team will bring a fresh perspective to our network and appeal to all generations.
WMCN has teamed up with Studio City, which will help in the production and marketing of the show. Studio City has been marketing and managing the brand image of the nation's top-rated talk shows, including Live with Kelly and Michael, Katie, Ellen, The Talk, Jimmy Kimmel, among many others.
Studio City President Joe Tamanini says he sees a bright future for Chelsea as well as a successful show.
"We feel that The Cheslea Krost Show and Chelsea herself are a wonderful representation of what hard work, dedication, and drive can do," says Tamanini. "Chelsea's enthusiasm is contagious, and her wisdom is well beyond her young years. We're absolutely thrilled to be part of this journey with Chelsea and The Chelsea Krost Show. Chelsea's credibility and reliability are a recipe for success."
The Chelsea Krost Show will air on WMCN44 Thursdays at 7:30 p.m., premiering April 18.
About Studio City:
Studio City is the largest, most award winning bi-coastal entertainment marketing agency in North America. In addition to hundreds of industry accolades, Studio City is the first and only marketing agency to win two Emmys for its on-air promotion. Since 1995, Studio City has been the creative marketing force behind dozens of television shows including 30 Rock, Parks and Recreation, The Biggest Loser, The Office, Law and Order SVU, Live! with Regis and Kelly, The Ellen DeGeneres Show, Dr. Phil, Judge Judy, Criminal Minds, South Park, Burn Notice, White Collar and NBC's 2010 and 2012 Olympics campaigns, including their Super Bowl launch spot. With the youngest, most diverse creative staff in the business, Studio City produces over 9,000 pieces of original creative each year. Throughout its 18-year history, Studio City has evolved into the one- stop agency for award winning launch campaigns, radio spots, sizzle reels, daily topical campaigns, network episodic promotions and syndicated episodic promotions.
About WMCN44:
WMCN TV is an independent broadcast television station reaching nearly 3 million homes in southeastern Pennsylvania, central and southern New Jersey, and Delaware. WMCN44 is owned and operated by Lenfest Broadcasting LLC.
For more information visit http://www.chelseakrost.com.
For interviews, and for more information, contact Robyn Stevens at prmedia(at)live(dot)com.