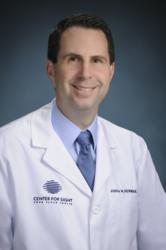 There is no better feeling when you can partner with a patient to prevent, detect and treat serious skin conditions.
Venice, FL (PRWEB) April 05, 2013
Center For Sight dermatologist Joshua Newman, M.D., has been named a "Top Doctor" in the field of dermatology by Castle Connolly Medical, Ltd. Dr. Newman was chosen as a Top Doctor for his excellence in medical care and practice.
Castle Connolly's mission is to help consumers find the best providers in health care. Each year, they survey thousands of physicians and other healthcare professionals and ask them to identify excellent doctors in every specialty in their region and throughout the nation. Doctors cannot and do not pay to be listed in any Castle Connolly guide to top doctors. They are selected based on nominations by their peers and then reviewed by Castle Connolly's physician-directed research team.
"I'm delighted to receive this honor from my colleagues," says Dr. Newman. "Accolades like this are always pleasant to receive, but I get the greatest satisfaction when I'm able to really connect with my patients and develop lasting, trusting relationships with them. There is no better feeling when you can partner with a patient to prevent, detect and treat serious skin conditions."
Dr. Newman practices at Center For Sight's Venice location and is the latest physician in the practice to be named as a Top Doctor. Cataract surgeon and Center For Sight founder David Shoemaker, M.D., and facial cosmetic surgeon John Fezza, M.D. have also achieved this designation.
Dr. Newman specializes in the diagnosis and treatment of skin cancers, as well as the removal of both benign and malignant skin growths. For more advanced skin cancers, he utilizes Mohs Micrographic Surgery in order to achieve the best possible cure rates. In addition, he offers an array of medical and cosmetic dermatological services.
Dr. Newman received his Bachelor of Arts degree from the University of Michigan, and his medical degree from the University of Virginia School of Medicine. He continued his postdoctoral education with an internship in Internal Medicine followed by a residency in dermatology, at the esteemed Cleveland Clinic. He is board-certified by the American Board of Dermatology and is a fellow of both the American Academy of Dermatology and the American Society of Mohs Surgery.
About Center For Sight
Center For Sight is among the nation's leading multi-disciplinary physician groups providing patients worldwide with care in ophthalmology, optometry, dermatology, cosmetic facial surgery and hearing services. In August 2012, Center For Sight earned the distinction of becoming one of the first ophthalmology practices in the United States to acquire the LENSAR Laser System for Laser Cataract Surgery. Under the clinical direction of David W. Shoemaker, M.D., and William J. Lahners, M.D., F.A.C.S., Center For Sight has eight offices serving Manatee, Sarasota and Charlotte counties. For more information, visit CenterForSight.net.