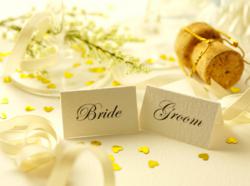 Newport Beach, CA (PRWEB) April 05, 2013
With wedding expenses having increased even in the face of an economic downturn, Wedding.com says it comes as no surprise that the wedding industry is expected to experience further growth within the next five years.
According to an article on Huffington Post, it is believed that the wedding industry will see a 2.3% increase by 2018. The industry is currently standing at $50.6 billion. The following five wedding vendors in particular are expected become more profitable over the next few years: (1) Lingerie, swimwear, and bridal stores; (2) Florists; (3) Catering; (4) Photography; (5) Taxi and limousine services (http://www.huffingtonpost.com/2013/04/02/wedding-industry_n_3002354.html#slide=more289784). Given its ability to withstand recent economic years, it is believed the wedding industry will continue in an upward trend into the foreseeable future, according to Wedding.com. In addition, more consumers have been interested in turning their wedding celebration into a unique experience, often incurring larger costs in the process.
"The average wedding costs more now than before, despite the fact that the overall economy is still not in its most favorable position," says Brett Reynolds, CEO of Wedding.com. "Even so, the wedding industry has thrived and will continue to do so in the next 10, 20, or 30 years."
For more information about Wedding.com, please visit http://www.wedding.com.
About Wedding.com
Wedding.com is an innovative new website that connects engaged couples planning their wedding with wedding vendors looking to grow their business. Wedding.com contacts vendors for couples, giving them the power to compare and negotiate while ultimately saving time and money. With 12,000 couples and 22,000 vendors currently using the website, 105,000 proposals have already been sent since their inception. Vendors range in services from wedding planners, photographers, florists, and DJs to custom invitations, party favors, and much more. For additional information about the company and its services, please visit http://www.wedding.com.