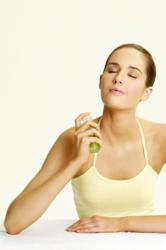 Spray Topical Probiotic
Miami, FL (PRWEB) April 08, 2013
Probiotic Action announced this week that their topical probiotic acne treatment* can also be used as a skin-refresher throughout the day. Targeted for active women, using the acne treatment throughout the day when sprayed on the skin can refresh and help repair the users complexion*, whether or not they wear makeup.
Fernando Perez, a spokesman for probiotic action explains why their topical probiotic formula is not only the best acne treatment*, but is a great beauty product;
" For women who suffer from acne, or are looking to improve their skin condition*, using a topical probiotic that is water based can help remove dirt, oil, and bad bacteria on the skin, without harsh chemicals, or beauty peels. The probiotic technology creates a weightless barrier of good bacteria that fights off everyday grime and pollutants from settling in the skins pores. For women who are on the go, or who wear makeup, using a skin refresher that leaves the skin feeling clean, without disrupting makeup, and that improves overall tone and chemical balance*, there is not a better product in existence. Since probiotic action is easily stored in a handbag and comes with a convenient sprayer, women can take the product with them, and spray their skin throughout the day."
Perez suggests preparing a fresh solution every 24 hours, and using probiotic action before and after putting on makeup to help prepare and protect the skin from everyday harm.
Probiotic Action is an advanced acne treatment that uses Probiotics for acne containing the "good bacteria" that is naturally found on healthy human skin. By using probiotics, Probiotic Action is an effective treatment that restores the normal bacteria content on skin. Probiotic Action will successfully clear skin* when used as an adult acne treatment while protecting skin against bad bacteria, free radicals, and pollutants.

These statements have not been evaluated by the Food and Drug Administration. Probiotic Action is not intended to diagnose, treat, cure or prevent any disease.
###