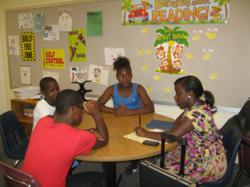 99% of respondents agree that the Library is a valuable educational resource, and 96% agree that the Library provides services for literacy and lifelong learning.
Charlotte, NC (PRWEB) April 12, 2013
This week, the Charlotte Mecklenburg Library joins libraries in schools, campuses and communities nationwide in celebrating National Library Week, a time to highlight the value of libraries, librarians and library workers.
This year's theme is "Communities Matter at Your Library." Nowhere is that more evident than in Charlotte and Mecklenburg County, according to the results of a recent MarketWise survey. In the survey of over 600 Mecklenburg County residents, 97% said the Library is important to the community and 71% believe that the need for libraries will increase or stay the same over the next 10 years.
It's clear that residents believe the Library is an integral provider of literacy, learning and education in Mecklenburg County. 99% of respondents agree that the Library is a valuable educational resource, and 96% agree that the Library provides services for literacy and lifelong learning. 83% agree that the Library has enhanced their education. This is evidenced in stories like that of DeAja Gaines, a local teen who attended the Library's Operation College Launch workshops and felt more prepared for college and career. DeAja's mother wrote a letter to the Library that said, "these great opportunities and your positive influences have prepared her with some of the necessary tools to be successful in the next phase of her life....college and beyond!"
Residents also believe that the Library contributes positively to the quality of life and economic health of Mecklenburg County. 96% agree that the Library improves the quality of life by providing free materials and resources; while 97% agree that the Library enhances the image of the community. Consider the at-risk students in underserved communities who participated in Summer Reading through the Library's outreach department and avoided summer learning loss.
For those without Internet access at home, the Library is also their only free point of access to basic activities such as finding work, managing healthcare and completing homework assignments. According to the survey, 19% of Mecklenburg County households do not connect to the Internet from home and 31% do not use a smartphone. Recently a young woman came into a Charlotte Mecklenburg Library branch to print her pay stubs and was helped by library staff member Vickie Chapman, who recognized her difficulty. "I think this library experience helped [her] realize that she needs to improve her computer skills and that the library is a place she can come to and gain those," said Chapman.
Though these results are specific to Mecklenburg County, they echo national statistics and sentiments.
So what can people who value libraries do to support their local public library today and in the future? By sharing facts and stories, and continuing the conversation about libraries. Locally, they can go to http://www.cmlibrary.org/libraryweek to learn more.
First sponsored in 1958, National Library Week is a national observance sponsored by the American Library Association (ALA) and libraries across the country each April.
The Charlotte Mecklenburg Library conducted this survey as part of a robust community feedback campaign that also included an online survey with over 4,000 respondents, four community forums and seven focus groups. The feedback will be used to develop the Library's new Strategic Plan. You can access the full survey report at http://www.cmlibrary.org/libraryweek.
For more information about the Charlotte Mecklenburg Library, visit our website at http://www.cmlibrary.org. Also look for the Charlotte Mecklenburg Library on Facebook, Twitter, Flickr and YouTube.