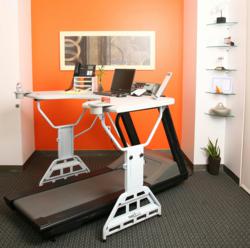 If their answer to obesity is sidewalks combined with a closed mind to new innovations that actually hold promise it is time to look for leadership elsewhere."
Salem, OR (PRWEB) April 04, 2013
In the first legislative move of it's kind Oregon Republican Representative Jim Thompson has sponsored a bill that would undertake a pilot study analyzing the impact of treadmill desks on the health of Oregon state workers. TrekDesk Treadmill Desks has been promoting this concept for the past four years and Rep.Thompson is the first legislator to recognize its potential health gains and proceed toward legislation. "We are not designed to sit," stated Thompson. "We talk about all these things we need to do to get people healthier, but when are we actually going to try some of them?"
Last week U.S. Senator Orrin Hatch (Utah) expressed dissatisfaction with the Center for Medicare and Medicaid Innovation for implementing treadmill desks in their offices ostensibly on the basis of costs. TrekDesk offered the senator an opportunity to learn the facts about treadmill desks but was rebuffed via Twitter with the comment "Can walk on sidewalks. Doesn't cost the taxpayer $". Hatch's press secretary Matt Haraskal chimed in as well on Twitter, "‪@SenOrrinHatch's office is healthy because we walk on sidewalks. Don't need $1,000+ machine (bought w/ taxpayer $) to be healthy."
"That was the "let them eat cake' statement of the obesity epidemic as far as we were concerned," stated Steve Bordley, CEO of TrekDesk Treadmill Desks. "Areas in this country where obesity is at its highest are not parks with tree lined sidewalks and a majority of Americans sit at a desk all day with no extra time in their day for exercise, let alone a stroll down a sidewalk. If their answer to obesity is sidewalks combined with a closed mind to new innovations that actually hold promise it is time to look for leadership elsewhere."
As reported by Govtech.com (http://www.govtech.com/health/Oregon-Explores-Treadmill-Desks-for-State-Workers.html) Rep. Thompson spoke directly to the benefits and the costs of treadmill desks. "It's not unbearably expensive; one of those units costs less than the desk I have in my office," The cost of TrekDesk is $479.00 including delivery.
"We were gratified when Representative Thompson recognized that the benefits of treadmill desks significantly outweigh the costs and despite his party affiliation decided that they merited further evaluation based on potential health benefits to his constituents. That is true leadership and we need more of it if we are going to win this battle," stated Bordley.
Designed to fit any existing treadmill, TrekDesk treadmill desk is an affordable, full sized, height adjustable workstation that allows individuals the opportunity to gain the necessary amount of daily exercise to lose weight, maintain health, reduce stress, prevent disease, strengthen muscles, boost mood and productivity, without requiring additional time during the day or extra motivation.
Join the TrekDesk "Movement Revolution" to learn more, spread the gospel regarding movement, or win a free TrekDesk http://www.facebook.com/trekdesk, or follow TrekDesk on twitter http://www.twitter.com/trekdesk. TrekDesk treadmill desk is currently available for sale online at http://www.trekdesk.com.