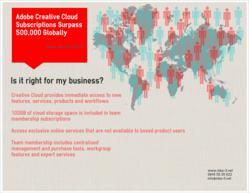 Many customers are worried about implications of the changes Adobe are implementing. They are concerned about rising costs and about losing their existing investment in traditional CD based products.
London, Greater London (PRWEB UK) 5 April 2013
The end of April will bring about a new era for Adobe as the company hammers the final nail into the coffin of traditional boxed-product software and firmly positions itself as a services company operating under a subscription model with their Creative Cloud offering.
Boxed product Creative Suite and Acrobat products have an End of Life date of 30th April 2013 and warehoused stock is expected to run dry soon after this time. For the time being, Transactional Licensing Programme (TLP), Cumulative Licensing Programme (CLP) and Business Enterprise Agreement (BEA) contracts still offer a route for business customers to procure perpetual licenses; however, Adobe's recent decision to scrap their Upgrade Plan offering for Creative Suite under these agreement types offers a firm indication of Adobe's intention to move from license ownership toward service-rental akin to Microsoft's Office 365 model. Crucially, Adobe's actions so far suggest that unlike with Microsoft's Cloud offerings, there will be no long-term alternative offered for customers uncomfortable with Adobe's new model.
Dean Flynn, Software Licensing Manager at MBA IT believes that whilst Creative Cloud is being marketed by Adobe for its enhanced collaboration options and value versus existing methods of suite procurement, there are concerns among customers concerning the flexibility of the new offering. "I have spoken to lots of customers who are worried about the implications of the changes to the way Adobe are licensing with the Creative Cloud suite and they've spoken to channel partners who don't seem to know very much either. We understand what's happening and when it's happening, so can work out the best way for you to maximise your investment. Those with any responsibility for procuring software need to think about it now, while there are still some options available."
Flynn continues "Our Software Lifecycle Management Consultations have been set up to give you a clear understanding of where you currently stand and how you can achieve your future goals for as little expenditure as possible. We are totally flexible in our approach and consultations are at your location at your convenience."
About MBA IT
MBA IT works with businesses of all sizes across all sectors, providing IT support, solutions and services which meet ever changing agendas. MBA IT's Licensing and Software Asset Management Team provides vendor-agnostic, impartial consultancy concerning product and contract selection as well as advice on all areas concerning Software Lifecycle Management.