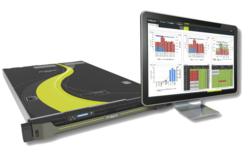 This version improves the overall user experience and provides our customers with better-than-ever access to their test metrics for important production and business benefits
Montreal, Canada (PRWEB) April 04, 2013
Averna, premier test solution provider to electronics and communications OEMs, announced today Release 6.2 of its award-winning Proligent® Test and Quality Management software, featuring a personalized environment that incorporates new and improved reports, a landing page for quick user help, customizable dashboards for user-based report summaries and powerful report-sharing tools.
Proligent gives product designers and quality managers the ability to quickly and easily mine manufacturing data, uncovering opportunities to accelerate time-to-quality, streamline supply-chain activities and reduce costs.
Proligent Analytics 6.2 Highlights

Easy-to-manage dashboards: Provides users with multiple report summaries on a single page, and includes a new relative-date-selection tool to ensure dashboard reports are always up to date.
New Analytics reports: Improved CPK Analysis, CPK Summary, three Control Charts, Rolled Throughput Yield report, configurable Yield report, Defect Trend report and Failure Trend report.
A personalized user environment: Allows Analytics users to share their own report shortcuts. This feature also allows users to create custom dashboards for quick assessment of Production data.
A landing page for quick user help: Ideal for new users to find key information about the product and its functions.
Improvements to the Analytics engine: Now able to support larger databases, along with parallel data analysis and acquisition.
"This new version of Proligent Analytics delivers important features that simplify report navigation and test data analysis," commented Eric Lamontagne, Team Leader Proligent Analytics for Averna. "With the addition of private and public reports, a landing page, and multiple dashboards, this release improves the overall user experience and provides our customers with better-than-ever access to their test metrics for important production and business benefits."
For more information about Proligent, go to: http://www.averna.com/solutions/test-quality-management/proligent
Pricing and Availability
This new version is available now to customers worldwide. Please contact Averna Sales, sales(at)averna(dot)com, for more details.
About Averna
Averna is a premier manufacturing solution provider for communications and electronics device-makers worldwide, helping them deliver a better end-user customer experience. Key Averna clients in the communications, aerospace, defense, automotive, consumer electronics, and medical device industries use Proligent, RF Test Instruments, and other test solutions to accelerate product development, reduce manufacturing costs, achieve superior quality throughout the lifecycle, and solve critical supply-chain issues.
Averna has offices and sales partners around the world. Incorporated in 1999, Averna is a Best in Test award winner, an Ernst & Young Entrepreneur of the Year® recipient, and has been honored as one of the Deloitte Fast 500 fastest-growing technology companies in North America. http://www.averna.com