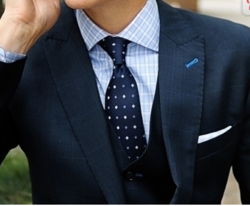 When it comes to elements in men's fashion that we believe to be exceptionally important, patterns rank up towards the top of the list
San Francisco, CA (PRWEB) April 04, 2013
Mens-Ties.com, a San Francisco based online tie retailer, today announced plans to publish a guide to mixing patterns in men's fashion.
"When it comes to elements in men's fashion that we believe to be exceptionally important, patterns rank up towards the top of the list," says founder Hendrik Pohl. "The problem is, a lot of men have a hard time mixing one type of pattern with another, as clashing can very easily occur. We wanted to put together a piece showing that you don't have to always bet on different patterns clashing with one another, so long as you take the correct route when putting together an ensemble. The more you experiment with different combinations, the better your chances are of finding one that works for you."
The article touches upon a variety of different aspects of mixing patterns in men's fashion that might not otherwise be thought of as common knowledge. Tips are given on playing with different colors and contrast, as well as how to incorporate various pattern sizes into a single ensemble. The piece also makes mention of how to utilize one's entire body to frame different patterns, rather than stacking them on top of one another.
"Patterns can certainly be tricky, especially given the fact that clashing can occur so easily," says Pohl. "There are quite a few little things that often get lost on people, however, many of which can help to make incorporating various patterns into a single outfit far easier than it might seem. For example, a lot of people think they need to keep patterns to the upper half of their body; shirt and tie pairings, mainly. There's no reason why you can't incorporate one pattern into your pants, however, and another into your shirt in order to break things up and create contrast. It's small tricks like this that can mean the difference between an ensemble that shines and one that falls flat."
The style experts at Mens-Ties.com regularly publishes article series' relating to men's fashion on their blog. While fashion tips are covered, industry trends and celebrity fashion are also highlighted.
"We do whatever we can in order to ensure that our fashion blog offers up a cohesive variety of informative articles to our readers," says Pohl. "We always get great feedback on the pieces we publish, which has been a strong motivating factor in staying on top of the latest trends and news in the fashion industry."
For more information, visit: http://www.mens-ties.com/successful-pattern-matching-101/