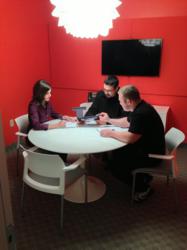 The raw creativity and technical know-how that we bring to any project is the reason that inventors should talk to industrial design firms." says Magnus Skold, of TXS.
Richardson, TX (PRWEB) April 05, 2013
With the popularity of SharkTank and crowdfunding sites the number of inventors has increased considerably in recent years. Many dream of creating the next must-have gadget and believe designing a product is easy. But before energy and hard earned money is invested, some important questions need to be answered. What is the motivation for pursuing this invention? Is it a hobby? Should a business be built around this invention? Can a product line be created? Will this idea or product be sold to another company? Whatever the reason, having a clear picture of the motivation for pursuing the invention will lead to a more positive outcome.
TXS Industrial Design has over 30 years developing products and understands the hurdles involved in the product development process from the initial idea through production to market. It is not an easy road and only a few inventors TXS has worked with have experienced success. Magnus Skold, Design Director of TXS describes, "On average we get about three calls a month starting with this sentence: 'I have an idea…' It is at this point we start to be concerned. Of course, discussing an idea is in our scope of work but we often notice a pattern: there is no business plan. This is usually followed by a budget mismatch that is too large to bridge without somebody refinancing homes, selling kidneys or performing other financially precarious activities. Ok, I was joking about the kidneys, but this is concerning. As professionally creative people, we understand people's desire to solve problems on their own and hopefully achieve financial success. Of course, it takes money to make money, and even though we competitively charge for our services, this still can cause sticker shock for those who are not prepared for the reality of product development."
TXS suggests an inventor consider the five key points before contacting an industrial design firm:
1. A Good Idea on Paper or In Prototype Form
Industrial designers are visual people, so the best way to communicate an idea is through drawings or a prototype. It is important that the goals for the product are clearly defined. The more thoroughly the idea is developed prior to engaging a design firm, the more value the industrial designers can bring to the project. If the firm is tasked to develop a design on purely an idea, the costs will greatly increase.
2. A Business Plan
A business plan is a formal statement that defines the business, identifies the business goals, and how the goals may be attained. It may also contain background information about the organization or team attempting to reach those goals. In other words, a fleshed out plan that considers the market, development costs, production costs, sales and distribution, etc., not just an idea based on a dream of riches and roads paved with gold and no clear direction where to take this "idea".
3. Appropriate funds (without losing a kidney)
To develop a product takes time and a considerable amount of money, and one has to go through several steps to get there. This can involve several revision cycles before there is even a physical prototype to interact with. Once that is mocked up, further detail revisions are made to bring it to production…and more money. Sometimes problems can arise with meeting various regulations and industry standards…and yet more money. "We understand this all too well, developing our own hotel amenity products for our sister company, Brandstand Products. Large established companies understand this, and will allocate appropriate budgets to cover any unforeseen issues. Unfortunately inventors often do not have a cushion of funds to draw upon when challenges arise," says Staci Mininger VP of TXS Industrial Design.
4. Protect Your Idea
Inventors need to investigate what competition and established patents exist. Design firms can help with this, but why use designers to do research when they could brainstorm ways to improve the invention? These days, a simple search on the US Patent Office's website http://www.uspto.gov and a thorough Google search will quickly answer whether an idea is valid or not. Showing this research and existing patents will help inform the designers, and bring focus to their work. Consider filing a provisional patent that would protect the idea for one year at minimal cost. This would allow one year's time to determine whether the viability of the invention and whether it can be turned into a profitable venture. Provisional patent forms are available on the United States Patent and Trademark Office's website.
5. Trust The Designers!
Once all papers have been signed, inventors have to learn to deal with and trust criticism. Keep in mind it is in a design studio's interest to help inventors bring their idea to fruition. Part of that process is discussing ways to improve an invention for production purposes, or to add features that broaden a products appeal. It is a collaborative process. Know also that designers have a thick skin. On a daily basis, designers will sketch ideas and have meetings to discuss them. About 75% of these will be thrown out after constructive criticism. "At our studio we encourage discussion between designers and clients. The raw creativity and technical know-how that we bring to any project is the reason that inventors should talk to Design firms," says Skold.
Inventive thinking is encouraged and is at the core of what an industrial designer does. Collaborate is a key element when developing marketable products. A good design firm will guide clients to the best possible solution using experience and a trusted set of vendors in order to maximize the investment made. If the five points above are in place, the process is made easier for everybody involved and the entrepreneurial skills attained will improve the odds for success. Be creative, be informed, and be ready! The world needs innovative ideas and the design firms are here to help.
About TXS Industrial Design, Inc.:
TXS Industrial Design, Inc was created in 1986 to provide design services for consumer product, telecommunications, transportation, and graphic design industries. Award-winning TXS designers combine creative savvy and product understanding to express the aesthetic power of products.
© 2013 TXS Industrial Design, Inc., All rights reserved.