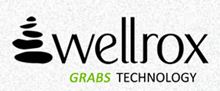 New York, NY (PRWEB) April 04, 2013
As the snow melts and the rains abate, can the conventional "flip flop" sandal be far behind? But are they safe? Avoiding slippage and the occasional tumble, Wellrox sandals are a stylish, comfortable and safer bet.
Debuting in select Macy's stores and on macys.com, Wellrox sandals will be available in many beautiful styles to keep your best fashion foot forward. Compliments aside, the real benefit is what Wellrox does for your feet, balance and posture – not to mention creating aesthetically pleasing sandal toes to be proud of.
Wellrox developed its 'GRABS' technology specifically to offer a comfortable more secure sandal that keeps feet securely in the sandal when walking. Wellrox five toe sandals have specially designed padded toe separators that grip the sandal, reducing the chance of slippage and providing greater confidence when walking or climbing stairs.
Wellrox sandals actually help to exercise underused toes, which when compressed together constrict rather than limber up the toes and feet. Wellrox sandals help improve toe alignment and range of motion, increasing flexibility of the feet and spreading toes. Improper foot alignment can cause knee, back and even neck pain.
"As a well-known concept when practicing yoga, separation of the toes, improves balance, enables a much more natural alignment of the toes and aids equilibrium," explained Selim Dushey, CEO of Wellrox. "There is no question that one's foundation - the feet - is broadened when the toes are spread. That improves coordination, one's stride and gait when walking."
Dushey pointed out that when the foundation is better, so is the posture. He said that Wellrox's contoured footbed along with its unique toe separators deliver optimum support and greater comfort when walking, standing and taking part in other activities. Wellrox sandals can be used as a recovery sandal after a long run or workout, or as yoga sandals before and after yoga.
Wellrox initiated its advanced technology design called GRABS to help prevent and alleviate the many problems caused by traditional footwear and flip flops. Wellrox, toe separator sandals are the solution many podiatrists and health experts have been seeking. Wellrox sandals with individual toe separators offer the wearer uncompromised comfort and support with style.
The Wellrox 5 Toe sandal concept was originated by Stuart Kalinsky, President of Wellrox, who inspired the current Wellrox line and created the successful lines, PediCouture and YogaCouture.
Wellrox has many great styles of its sandals available on its website. Readers interested in seeing them, ordering or learning more about Wellrox sandals should visit http://www.wellrox.com.
# # #
EDITOR'S NOTE: To arrange to speak with Selim Dushey, CEO of Wellrox, or with Stuart Kalinksy, President or for more information about Wellrox sandals with GRABS technology, please contact Nancy Trent or Pamela Wadler at 212-966-0024 or pam(at)trentandcompany(dot)com.