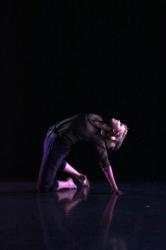 'Scripps Dances' is the highlight of the dance department's spring calendar and presents an eclectic range of dance styles.
Claremont, Calif. (PRWEB) April 04, 2013
"Scripps Dances," the annual spring concert of the Scripps College Dance Department, takes place on April 12 at 8 p.m. and on April 13 at 2 p.m. and at 8 p.m. in Garrison Theater of the Scripps College Performing Arts Center, 231 E. 10th St. The program features original dance pieces choreographed by students and faculty.
Tickets will be sold at the box office beginning at 6 p.m. on performance evenings and at 1 p.m. for the matinee performance on April 13. General admission is $10 or $5 for seniors, Claremont College students, faculty and staff. Payment is accepted by cash or check only. Doors open at 7:30 p.m. for evening performances and at 1:30 p.m. for the matinee. For general concert information, please call (909) 607-2934.
"Scripps Dances" is the highlight of the dance department's spring calendar and presents an eclectic range of dance styles. This year several works take their inspiration from outside western dance traditions. Senior dance major Avantika Saraogi investigates the "item song" in Bollywood film and how this both empowers and undermines the female performer. Accompanied by beats of live drumming, Scripps faculty member Phylise Smith tells the story of a shy girl who comes alive through the rhythms of West African dance. Faculty member Suchi Branfman, working in collaboration with her dancers, addresses issues of immigration and identity in "Abierta/Cerrada." The work was inspired by her recent visit to Cuba and draws on interviews recorded by Maria Hinojosa during the creation of the documentary "Lost In Detention."
Senior dance major Hannah Mason's solo brings into question the powerful experience of being embodied in a world where we are so disconnected from our senses and bodily intuition, while in another solo, Scripps junior Liv Townsend responds to issues of movement ownership and appropriation. On a totally different note, Townsend also offers an abstract quartet for four dancers and four white porcelain toilets, while Pitzer College senior Elissa Rowe experiments with the connection between five dancers as they work - alone and united - to break free from dominating and oppressive forces in the world.
In a more traditional vein, Pitzer College junior Emily Kleeman has collaborated with composer Brett Berger, a Harvey Mudd College sophomore, to create a ballet piece centered around music, where the actual piano becomes a driving force affecting the tides of movement and the push and pull of the dancers. Additional work by Scripps faculty member Joel Smith completes the program.