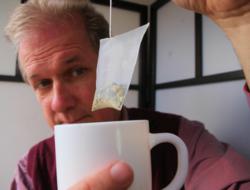 10 of the world's most influential coffee bloggers will be joining Sinnott, who's been on everything from 20/20 to Oprah, knows how to be a prima donna himself.
Chicago, IL (PRWEB) April 04, 2013
Kevin Sinnott, creator of CoffeeCON - The Consumer Coffee Event has given up coffee! "I couldn't stand it any more," says Sinnott also author of The Art and Craft of Coffee. "This event has gotten so demanding I am too busy to enjoy my own brew." CoffeeCON, which premiered in 2012 and attracted 1200 coffee enthusiasts from around the world, is expected to double in size this year.
CoffeeCON's social media manager thought it was all a big joke only to discover Kevin brewing herbal tea one afternoon. Apparently it's become too much for the lazy coffee lover. "I developed this event because I wanted to meet the people I've come to post daily with on social media platforms like Facebook. I never knew it would be this huge. Of course I'm grateful and proud of its success. But, it's a logistical nightmare. We have to arrange travel for the experts, communicate daily with large companies like BUNN and Kitchen Aid, each with their own fanbase and book hotels for 10 of the world's most influential coffee bloggers. "I know each of them. They each travel with their own eccentricities. We have world experts coming. The right coffees need to be here, the right water, the right….everything!"
Sinnott, who's appeared on everything from 20/20 to Oprah, knows how to be a prima donna himself. And, when it comes to coffee he says he's the worst. "It takes me 20 to 30 minutes just to pick out which of 20 brewers in my kitchen I'm going to use to brew my first cup. It's gotten so I don't have time for it. I'm seriously considering giving up coffee and switching to tea until the event. It's just insanity!"
CoffeeCON 2013 is being held in Warrenville Illinois just outside Chicago on May 4, 2013 from 8:30 am to 5 pm. Some of the nation's top experts will be appearing at CoffeeCON including George Howell, Christy Thorns, Oren Bloostein and Jim Schulman. Hands-on classes on just about every possible coffee topic are free with admission. Top specialty roasters will be handing out samples. There will be live music and coffeemaker give-a-ways. It's only $10 per ticket before April 8th and there's free parking. Going to Starbucks on Saturday morning will cost as much and it's a full day of enjoyment. Contact CoffeeCON at http://www.coffee-con.com or 630-393-9010.