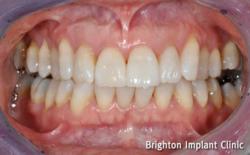 smile with confidence
(PRWEB UK) 5 April 2013
One of the first things somebody notices about the opposite sex is the glow of a smile. Although the eyes are considered the window to the soul, a bad smile can turn Kate Middleton into Little Britain's Vicky Pollard.
With good teeth and a perfect smile comes confidence. People with teeth that are worth showing normally do. And people with pristine dental hygiene are happy to reveal their gnashers in photographs.
Sadly, for people who don't have good teeth, life can be even harder at job interviews. According to research conducted by King's College London, people with poor teeth are deemed less clever and therefore more unlikely to be employed.
"Teeth are definitely one of the first things that someone looks for in somebody else," says Dr Bruno Silva, Principal Dentist at the Brighton Implant Clinic in East Sussex.
"There are so many factors when questioning what makes a perfect smile, and for those people who are striving for that confidence, there is plenty of help out there."
5 tips towards dental perfection
Brush up on dental hygiene
Regardless of the alignment, size or gaps in your teeth, general hygiene is crucial in obtaining a perfect smile. Prevention is better that cure; therefore, maintaining strong and healthy teeth will prevent tooth decay and gum disease. Brushing twice a day and upholding regular trips to the dentist will help tackle poor dental hygiene.
People consider clean teeth to be the key to fresh breath, whereas it's an overall commitment to oral health that leads to a clean mouth. There are a few additional actions that anybody can take to help towards conquering bad breath. Using a tongue scrub to remove food debris and bacteria from the back of the mouth will help considerably. Also using floss to get in between the teeth and a good mouthwash will assist in fresh breath.
Whiten up your gnashers
Discoloration is inevitable for most of us who smoke, drink lots of tea and coffee or enjoy a little more red wine that we like to admit. Many foods and drinks that we consume gradually strain our teeth leading to a dull smile that's lost its radiance. Technology in dental health has improved considerably in recent years and dentists now offer laser-whitening treatment that presents instant results.
Most dentists also offer home whitening kits, which are specially made in laboratories and worn during the night. Although the process may take longer, the results are normally the same.
Straight talking
Although braces may commonly be perceived as a young persons' thing, more and more adults are choosing to have them fitted to straighten their teeth. The typical 'train track' smile is a thing of the past, as orthodontics becomes inconspicuous. Although many dentists agree that metal braces are probably the most efficient, clear and ceramic braces offer the same result. Other alternatives are also available, including lingual appliances, which is attached to the back of the tooth, leading to almost invisible treatment.
Fix what's broken
For patients who have chipped or damaged teeth, veneers may be the answer you've been looking for. Dental veneers are small porcelain shells that fix onto the front of the tooth, resulting in a fresh and natural looking smile. In just a few appointments and a very basic dental procedure, veneers can turn a chipped smile incandescent.
Replace missing teeth
The latest report by the British Dental Health Foundation found that a third of children starting school are suffering from tooth decay. Bearing that in mind, it's no wonder we're treating a lot of patients in their adult years for tooth loss. The most obvious form of dental neglect is a missing tooth, as it instantly draws somebody's attention to the mouth. Dental implants are replacement teeth that fix into the gums. As technology improves, the quality and cost of implants are improving, and people all over the country and gaining confidence from newly found smiles.
If you're considering implants, ensure you do your research. Like all forms of surgery, there are considerable risks and complications. Make sure you're in safe hands by asking all the questions before deciding to go ahead with the procedure. Brighton Implant Clinic is one of the leading dental implants clinics in the UK today and our clinic, in 2009, achieved the Best New Practice at the Private Dental Awards.