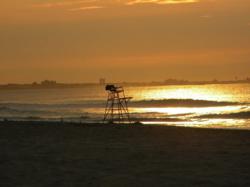 Wherever you hold your next race -- we will be there to support your amazing members and remarkably strong community.
-Andrea G.
Rockaway Beach, NY (PRWEB) April 04, 2013
The 35th Annual Rockaway Rotary Ocean Run, sponsored by Sweet 'N Low, will be held on Sunday, April 28. This will be the first Rotary Ocean Run since Super-storm Sandy devastated the Rockaways. This race will not only usher on the return to normalcy for the community, portions of the money made will go towards benefitting storm victims as well as other traditional Rotary programs including Gift of Life, and Polio Plus.
The race is held in the memory of Barbara Eisenstadt who was an active supporter of the Arts and Music in the Rockaways. The course is a 5K run which starts at Beach 102nd Street with registration held at the Irish Circle (101-19 Rockaway Beach Blvd, New York, NY 11694). Since there is no boardwalk, the race will be run on Shore Front Parkway and both start and finish at 102nd street. Registration begins at 8:30 a.m. and the race goes off at 10:00 AM. There will also be a ¼-mile children's race at 9:45 a.m., and then the 5K main event. There will be awards given to the first three overall finishers in the male and female races.
Awards will also be given to the top male and female finishers in the following age groups: 11 and under, 12-14, 15-19, 20-29, 30-39, 40-49, 50-59, 60-70, and 70 and over. Special awards will be given to members of police, parks, fire, sanitation, rotary and the physically challenged. Registration is online at http://www.rockawayrotary.com. The entry fee is $25 and $30 if registering on the day of the event. Fee for children under 10 years old who compete in the ¼-mile run is $10. T-shirts and race numbers can be picked up on race day from 8 a.m. to 9:30 a.m. at Beach 116 Street on the boardwalk.
There will be a post-race party and awards ceremony at the Irish Circle on Beach 102 Street and Rockaway Beach Boulevard. Food and soft drinks will be provided and the price is $10 for non-race participants.
Race inquiries to Dr. Dan Mirkin at 718-634-0005
About Rockaway Rotary Club:
Founded in 1947 our club, like all other Rotary clubs, is an independent member organization under the International umbrella. Most of us live and work in this community of Rockaway. We are lawyers, bankers, businessman, clergymen, doctors, and other professionals. One of our members is even a private investigator. We are people concerned about our community and the world.
Our members express their "Service Above Self" (the Rotary motto) in one of four areas: International Service, Community Service, Vocational Service, or Club Service. We are known as the foremost service club in Rockaway in recognition of the extensive range of our activities, from our own community to the other side of the globe.
Release Sent by Local Rockaway SUP Company The H2O Generation - Rockaway residents supporting Rockaway residents