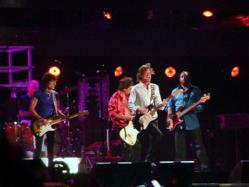 New York, NY (PRWEB) April 03, 2013
Cheap Concert Tickets announces that the Rolling Stones announced on Wednesday, April 3rd that they would be touring during 2013. Their tour will visit the following cities: Anaheim, Oakland, San Jose, Boston, Philadelphia, Chicago, Las Vegas, Boston and Los Angeles. Presales for shows in Oakland, San Jose, Toronto and Chicago are set for Friday, April 5th. The public onsales for these shows is slated for Monday, April 8th.
With last year's "50 and Counting" shows commemorating their fiftieth year in the business, fans can't wait to see them roll on and continue with more concert dates. They've already rehearsed, they can continue the "50 and Counting" tour which began in late 2012 in Newark, Brooklyn and London.
The limited concerts in 2012 for "50" were just enough to whet the appetite of fans. The venues that the Stones will perform in include: Air Canada Centre, MGM Grand Garden Arena, Oracle Arena, United Center, Wells Fargo Center, HP Pavilion, Honda Center and TD Garden.
Big names are also expected to be special guests. The "50" concerts in 2012 had rock legends Eric Clapton and Jeff Beck, along with former Stones members Bill Wyman and Mick Taylor. The speculation is high that the guest list will follow the precedent set by their concerts in late 2012.
The Rolling Stones' last concert tour was "A Bigger Bang" which ran from 2005 to 2007. The tours and shows are few and far between with the Stones. Although in 2012, Mick Jagger was supposed to have said that they would be at Glastonbury this year. There has not been any indication on the part of the Stones that they would be performing at the Glastonbury festival, since they have never performed there before. Formally known as The Glastonbury Festival of Contemporary Performing Arts in Somerset will be held on June 26 to 30 with tickets already sold out even though the official list of performers have not been finalized.
Formed in 1962, the Rolling Stones original line-up was composed of Mick Jagger, Brian Jones, Keith Richards, Ian Stewart, Charlie Watts and Bill Wyman. Brian Jones led the group, but died in 1969. Wyman retired in 1993 and Richards and Jagger assumed leadership roles in the band and became the primary songwriters of the band. The current full-time members are Jagger, Richards, Watts and Ronnie Wood, who joined the band in 1975. Early in their career, they declared themselves as the Greatest Rock and Roll Band in the World.
The band was inducted into the Rock and Roll Hall of Fame in 1989. They have been ranked number 4 in the Rolling Stone magazine "100 Greatest Artists of All Time" list. They are ranked at number 2 on the Billboard Hot 100 Chart, and number 10 on "The Billboard Top All-Time Artists." In their fifty year career, they have released 22 studio albums, selling more than 200 million copies. They have also released 23 videos or movies.
As part of their fiftieth anniversary, a hardbound book was also released, titled "50." Their old 1970's era tongue and lips logo was also refurbished and used once again. Among their songs, their more famous ones were "(I Can't Get No) Satisfaction," "Jumping Jack Flash," "Harlem Shuffle," "Paint It Black," and "Brown Sugar." At one time, Jagger had famously said that he won't sing "Satisfaction" on stage any more.
The Rolling Stones have passed their golden anniversary as a band, and are now looking forward to the next phase of greatness.
About CheapConcertTickets.me:
CheapConcertTickets.me delivers tickets to sold out concerts and events worldwide when no one else can, and they do so at discounted prices. As a member of TicketNetworkDirect, they can guarantee the delivery of Mumford and Sons tickets along with tickets for The Eagles and Maroon 5. This trusted ticket exchange also has a large inventory of tickets for all sporting events around the World. With CheapConcertTickets.me customer service is a priority, for more information email support(at)cheapconcerttickets(dot)me.