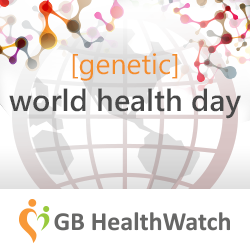 What genes you have and what foods you eat have a lot to do with risk for hypertension...
San Diego, CA (PRWEB) April 08, 2013
GB HealthWatch, a company focused on gene-diet interaction, is offering free use of their diet evaluator tool in honor of World Health Day 2013, an event focused on bringing awareness to the global public health issue of high blood pressure (hypertension). Currently, one in three adults has high blood pressure, which contributes to over 9 million deaths worldwide per year.
GB HealthWatch developed the diet evaluator to help people address dietary changes optimal for their genotype. Both genetics and dietary factors have a strong influence on a person's risk for developing chronic disease, including hypertension. For example, about 40-50% of the population carries a specific version of the ACE gene that makes them more sensitive to sodium intake. These people have higher risk for high blood pressure in response to sodium and thus need to be especially careful when it comes to salt in their diet. Another gene, NOS3, also interacts with dietary sodium and can elevate a person's risk for cardiovascular disease, depending on what version of the gene they carry.
The GB HealthWatch diet evaluator can be used to monitor the most important dietary factor that contributes to hypertension – sodium intake. From the company website, users can access the diet evaluator tool, input what foods they eat, and receive a full report analyzing not only sodium but all major nutrients in their diet. The personalized report also includes recommendations for what can be done to improve the diet.
Sticking to dietary recommendations for sodium intake is especially important for people who carry certain versions of the ACE and NOS3 genes. The Dietary Guidelines for Americans recommends limiting sodium intake to 2.3 grams per day while the American Heart Association recommends 1.5 grams, or about a ½ a teaspoon of salt, per day. GB HealthWatch provides detailed information about how to limit dietary sodium and also lists top foods for potassium in the diet, a nutrient that helps counteract the effect of sodium on blood pressure.
About GB HealthWatch
GB HealthWatch is a nutritional genomics company. We study gene-diet-disease interactions. Our mission is to help prevent common chronic diseases through targeted, gene-based nutritional and dietary intervention. We aim to inform people about the scientific basis of chronic diseases, support them with nutrition management products and services and empower them to take control and live better lives. What questions do you have about the gene-diet relationship? We invite you to visit http://www.gbhealthwatch.com and explore.